GREEN ARMY GRADUATION: THURSDAY 12 OCTOBER 2018
The Green Army Graduation was hosted by the Department of Environment Water and Natural Resources and BCA to celebrate the successful 5 month, $200,000 Green Army project in Brownhill Creek Recreation Park. The enthusiastic and hard working team was led professionally by their inspirational supervisor Jodie Bambridge (Conservation Volunteers Australia). It has been an absolute privilege to work with such a wonderful group of young people and we wish them well for the future. The graduation ceremony was followed by a BBQ lunch.
COMMUNITY PLANTING AND WORKS DAY ON THE PETER NELSON TRAIL : SATURDAY 26 AUGUST 2017
The Peter Nelson Trail is part of the Yurrebilla Trail and forms part of the proposed Wirraparinga Loop Trail. Among the dedicated volunteers from the Mitcham Council area were members of the Rotary Club of Brownhill Creek, Brownhill Creek Association and The Friends of Brownhill Creek. Thank you to Mitcham Council for upgrading the trail and hosting the community event.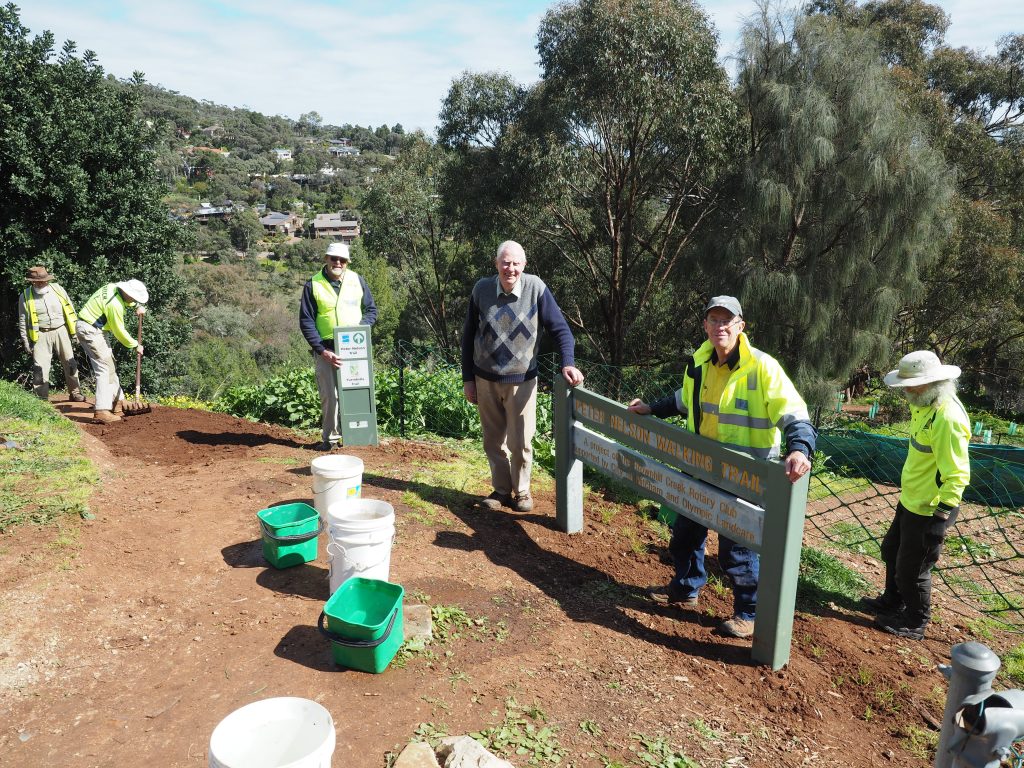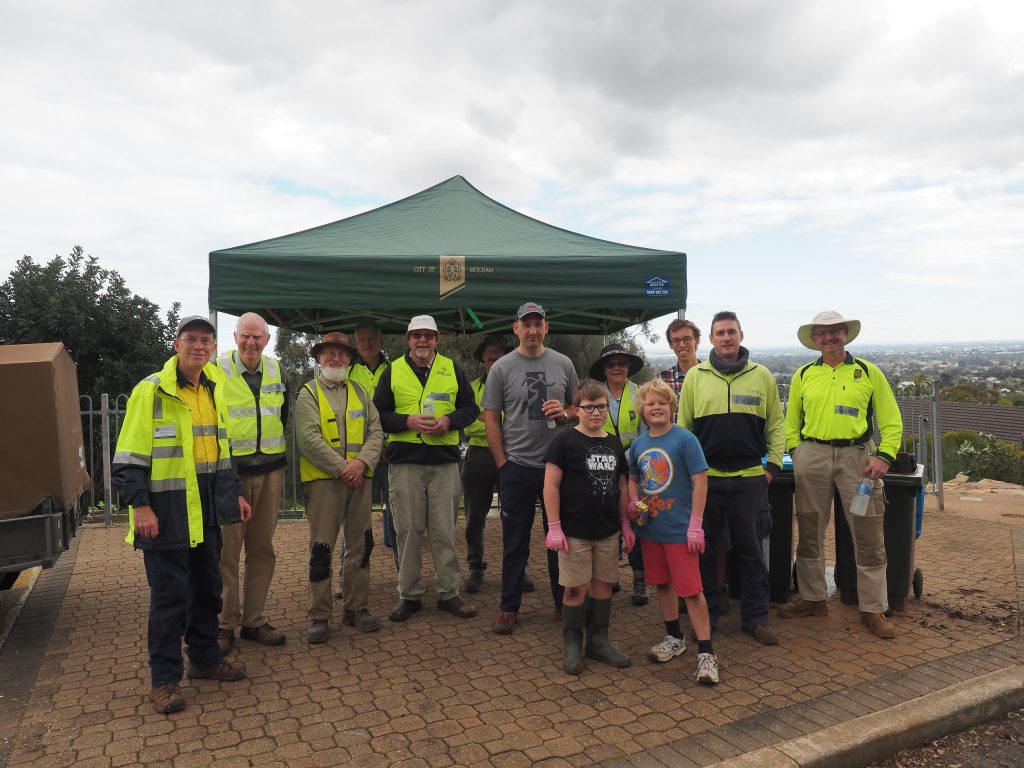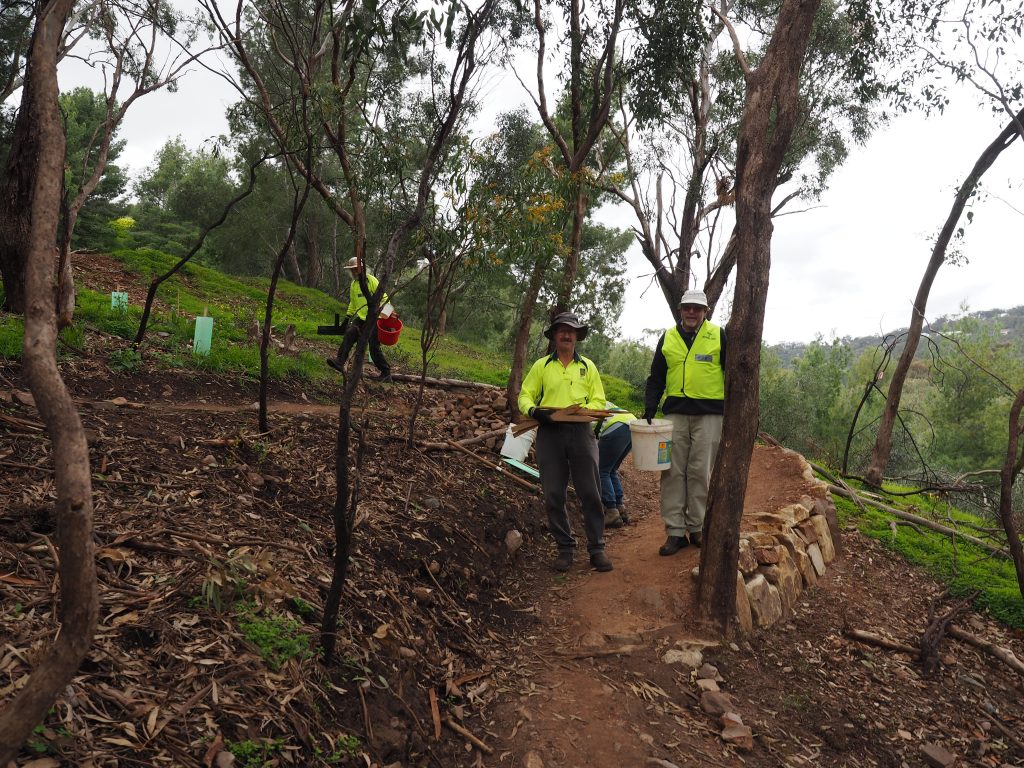 HIKING ON SUNDAY 23 APRIL, 2017
One of the external/extended hikes will leave from Mitcham Reserve at 8.30am and finish in Belair National Park for lunch. See Walking SA link for details.
http://www.walkingsa.org.au/expo/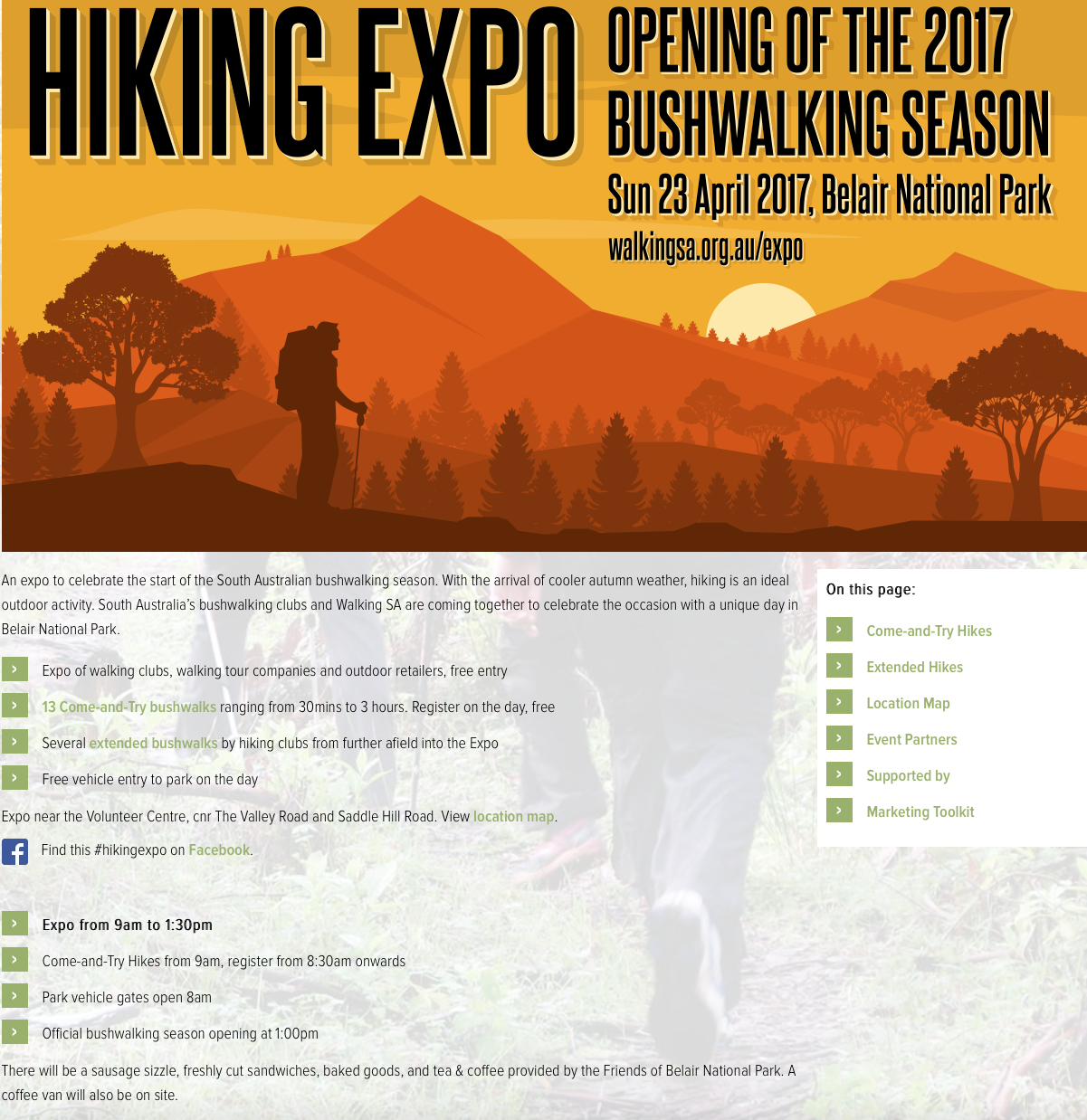 WIRRAPARINGA LOOP TRAIL STAKEHOLDER AGREEMENT MEETING: MONDAY 13 FEBRUARY, 2017
Thank you to Carrick Hill for hosting the event and thank you to the attendees for such a positive and productive meeting. We are now very close to achieving a Stakeholder Agreement for the Wirraparinga Loop Trail. A special thank you to Auntie Lynette Crocker, Vice-Chair of the Kaurna Nation Cultural Heritage Association and Colin Darcy, Kaurna Project Officer for ART Services.
Proposed Wirraparinga Loop Trail-Map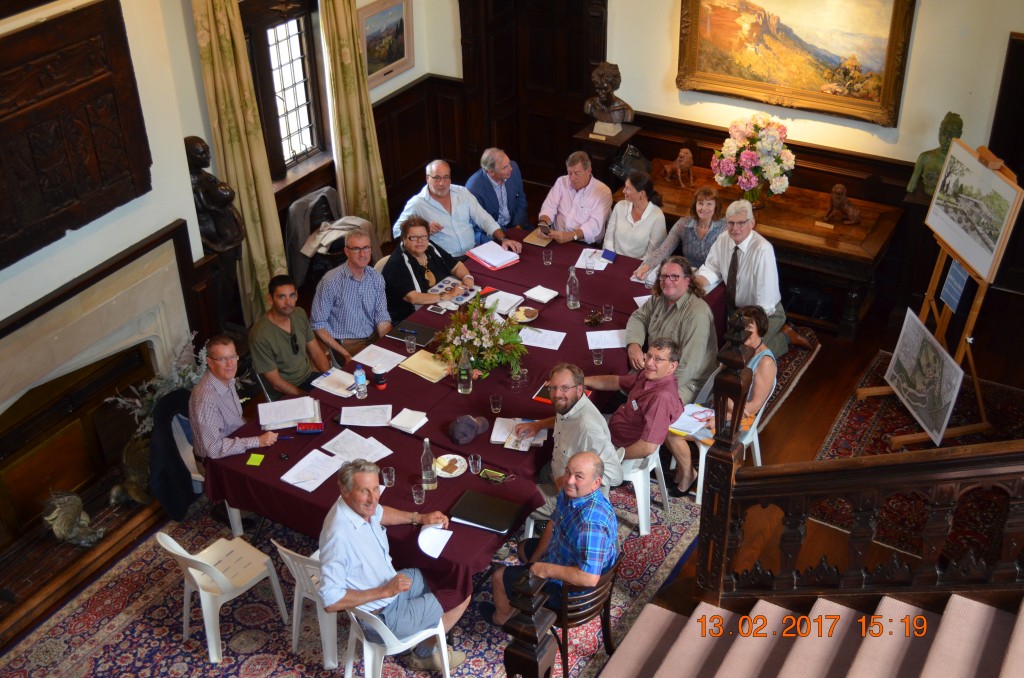 ________________________________________________________________________________
BROWNHILL CREEK ENVIRONMENTAL ACTION DAY: FRIDAY 21 OCTOBER, 2016
The Brownhill Creek Environmental Action Day on Friday 21st October was a successful and enjoyable event.
Thank you to the main organisers Ann-Louise Breeding (Urrbrae Wetlands Manager) and Jeremy Gramp (NRM Education), along with Garth Borroughs (Urrbrae Agricultural High School), Steve Walker (NRM Education), David Pace (Scotch College) and Professor Wayne Meyer. Thanks also to the Urrbrae students who provided leadership roles, all NRM/DEWNR support staff, teachers, parents and the many helpers.
Gavin Dyer, the proprietor of Brownhill Creek Tourist Park and his staff are to be commended for supporting the event and generously providing their facilities.
We are indeed fortunate to have Professor Wayne Meyer as Chairperson of the Education & Revegetation Committee and to have such talented and committed committee members. Thank you to Scotch College for hosting the committee meetings and for strongly supporting our aims and objectives.
The almost 200 students that attended enjoyed their outdoor classroom and the range of activities on offer. Their behaviour, enthusiasm and level of involvement was exemplary.
It was an honour and privilege to have Professor Chris Daniels as keynote speaker and to have Kaurna Elders Jeffrey Newchurch and Frank Wanganeen sharing their cultural heritage and welcoming us to country.
Mitcham Council's, Mitcham Heritage Research Centre, provided expert historical information and the expertise of NRM Education and DEWNR staff is invaluable.
Attached below is the programme and a summary of the Cultural Heritage session which concentrated on just the entrance to Brownhill Creek Recreation Park (one of 12 possible activities on the day). A summary of all other activity sessions (science based) will be available soon.
brownhill-creek-enviro-action-day-workshop-program-2
cultural-heritage-in-brownhill-creek-recreation-park-2
________________________________________________________________________________
TOURISM FORUM AT CARRICK HILL: TUESDAY 13 SEPTEMBER, 2016
A successful Tourism Forum was hosted by Carrick Hill to progress the Connecting Communities/Wirraparinga Loop Trail Project. Carrick Hill is set to become the tourism hub for a Cultural Heritage and Nature-Based Tourism Precinct. The proposed Carrick Hill Pavilion (multi-purpose visitor centre) will provide trailhead facilities for the Wirraparinga Loop Trail. Key stakeholders represented at the forum: Carrick Hill; Brownhill Creek Association; Kaurna Nation Cultural Heritage Association; The Friends of Brownhill Creek; Mitcham Historical Society; Walking SA; The University of Adelaide Waite Campus; Mitcham Council; Mitcham Heritage Research Centre; DEWNR/NRM; South Australian Tourism Commission; Local Education & Revegetation Committee; Nicolle Flint MP (Federal Member for Boothby) Electorate Office; Martin Hamilton-Smith MP (State Member for Waite) Electorate Office.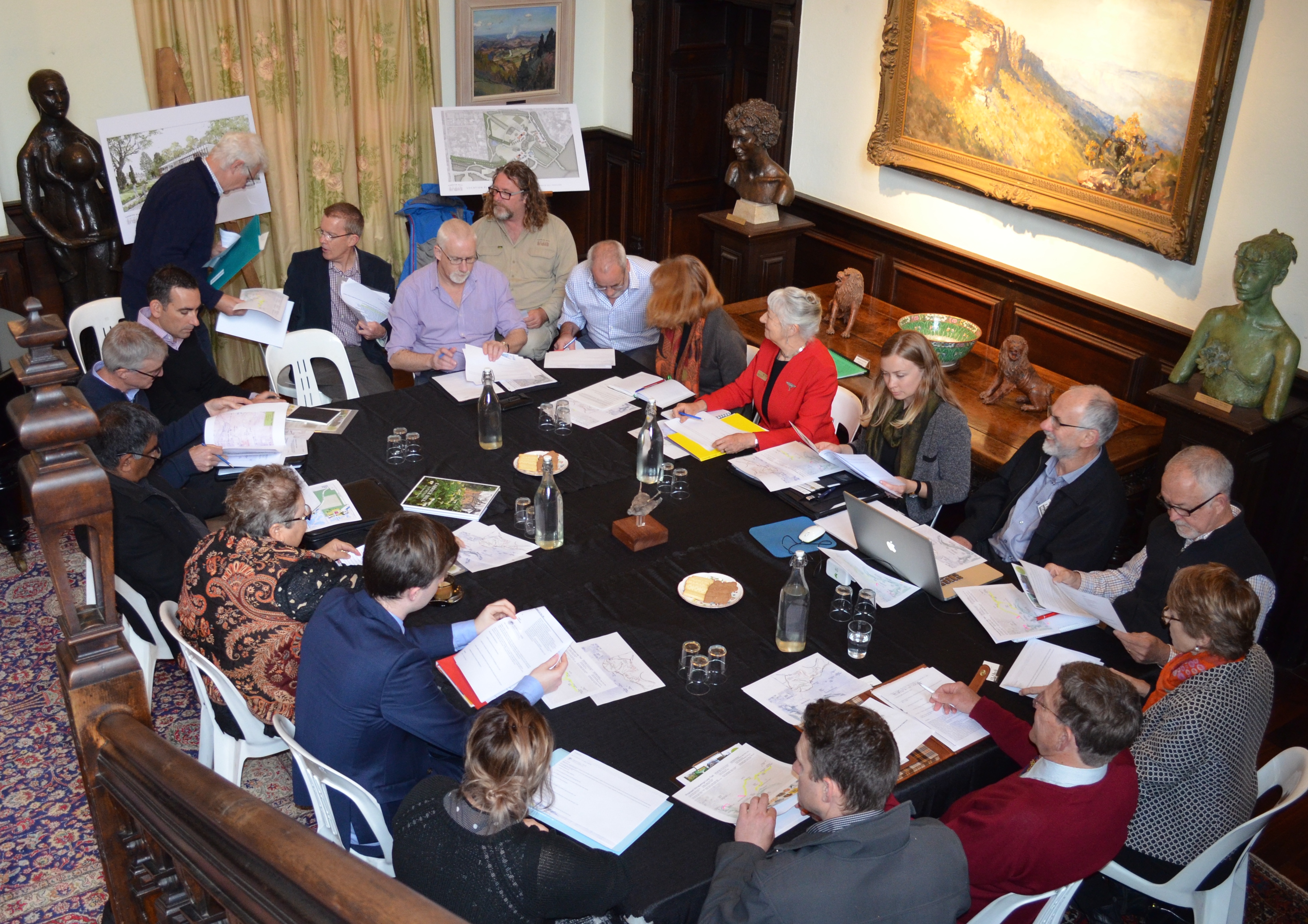 ________________________________________________________________________________
JUNE, JULY & AUGUST MEETINGS AND WORKSHOPS HELD TO PLAN THE CONNECTING COMMUNITIES/WIRRAPARINGA LOOP TRAIL PROJECT
_______________________________________________________________________________
HISTORY MONTH IN MAY: ELLISON'S GULLY WALKS
Large numbers participated in the heritage walks on the 1st and 15th of May.  Thank you to Mitcham Historical Society for organising these events and a special thank you to our knowledgeable local Mitcham Councillor Andrew Tilley for leading these entertaining walks.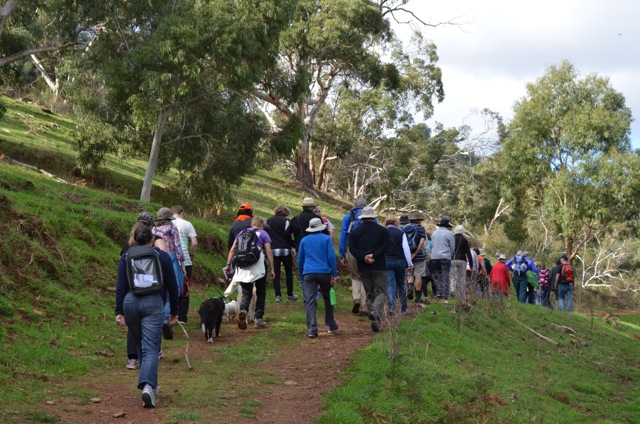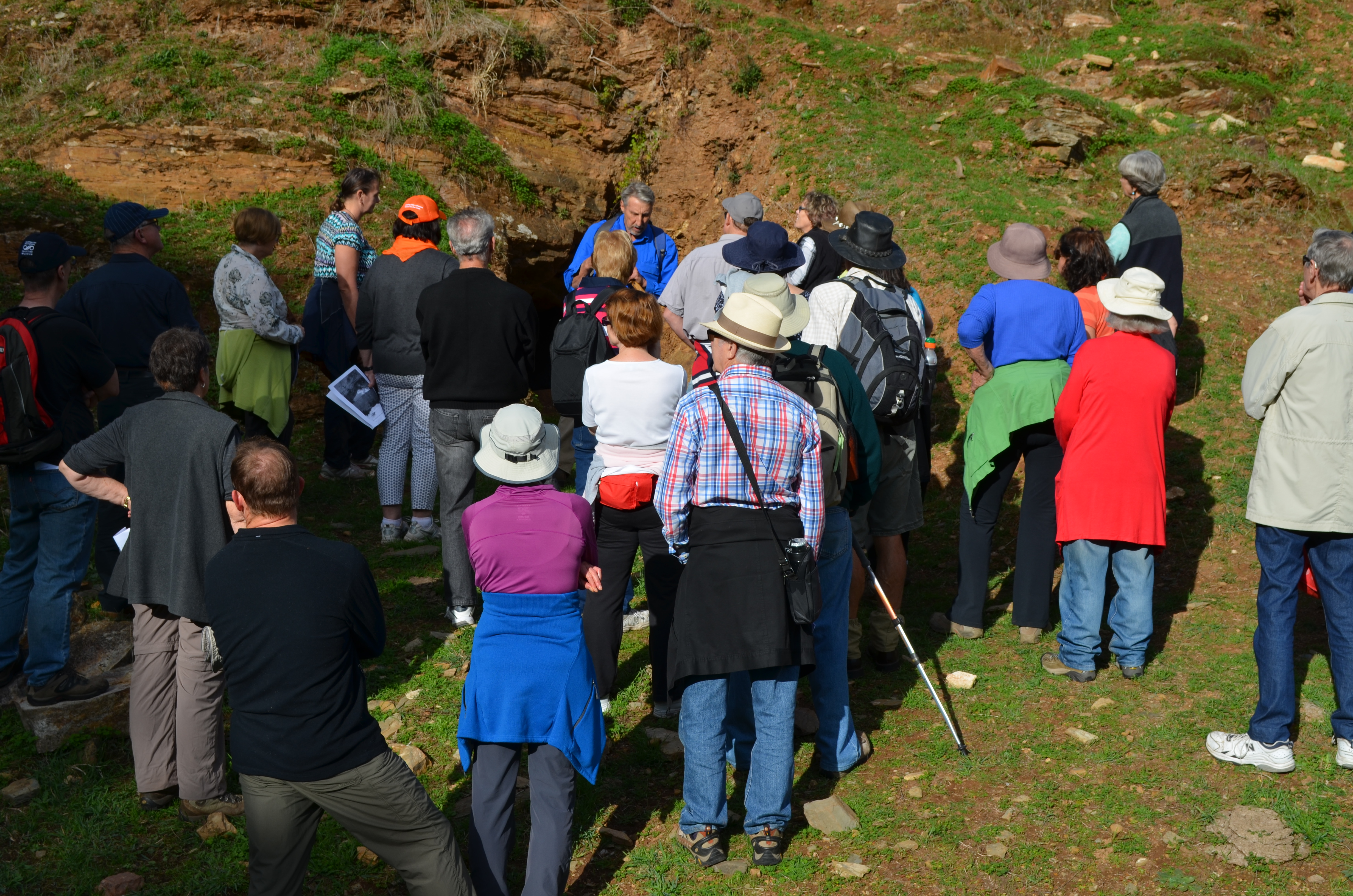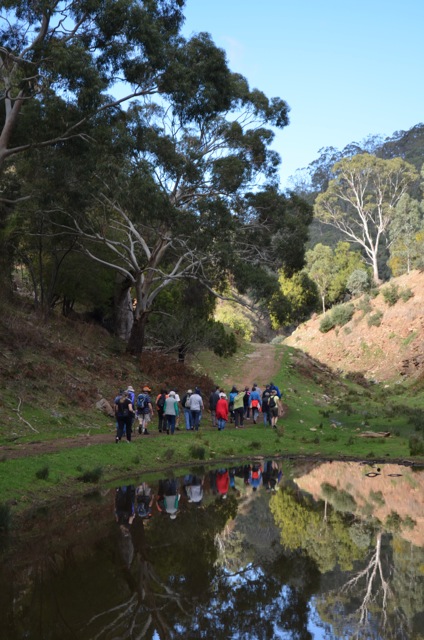 ________________________________________________________________________________
APRIL, 2016
HERITAGE TOURISM WORKSHOP
The Heritage Tourism Workshop on Wednesday 20th April will provide a wonderful opportunity to learn about local tourism opportunities for SA and to workshop our 'Connecting Communities' nature-based tourism project.
Heritage Tourism Program 20th April FINAL (3) 
EDUCATION & REVEGETATION COMMITTEE MEETING AT SCOTCH COLLEGE
Local schools, NRM Education Officers and DEWNR Rangers are coming together to plan their involvement in environment and heritage initiatives for the Wirraparinga Loop Trail, central to the Connecting Communities Project.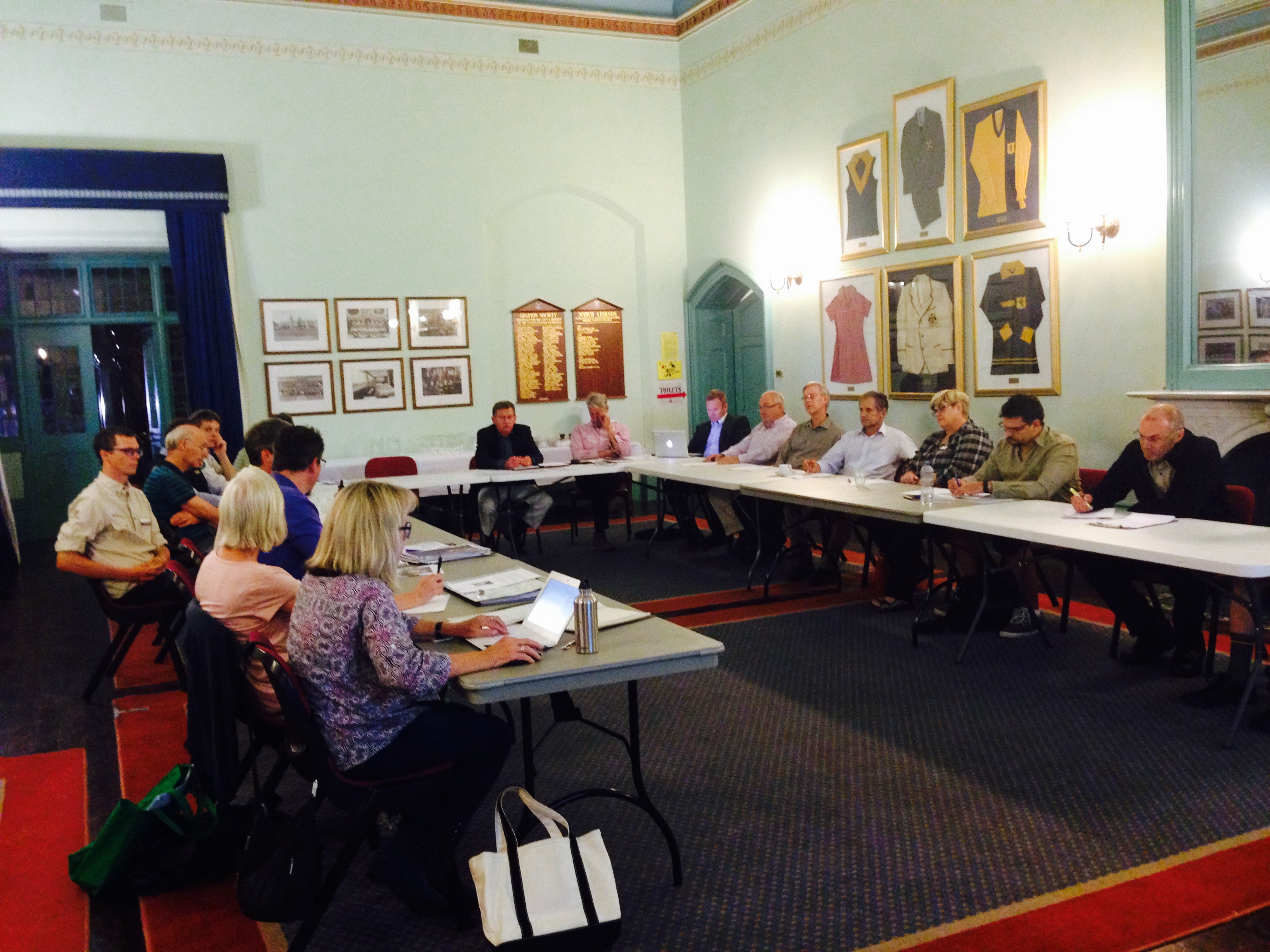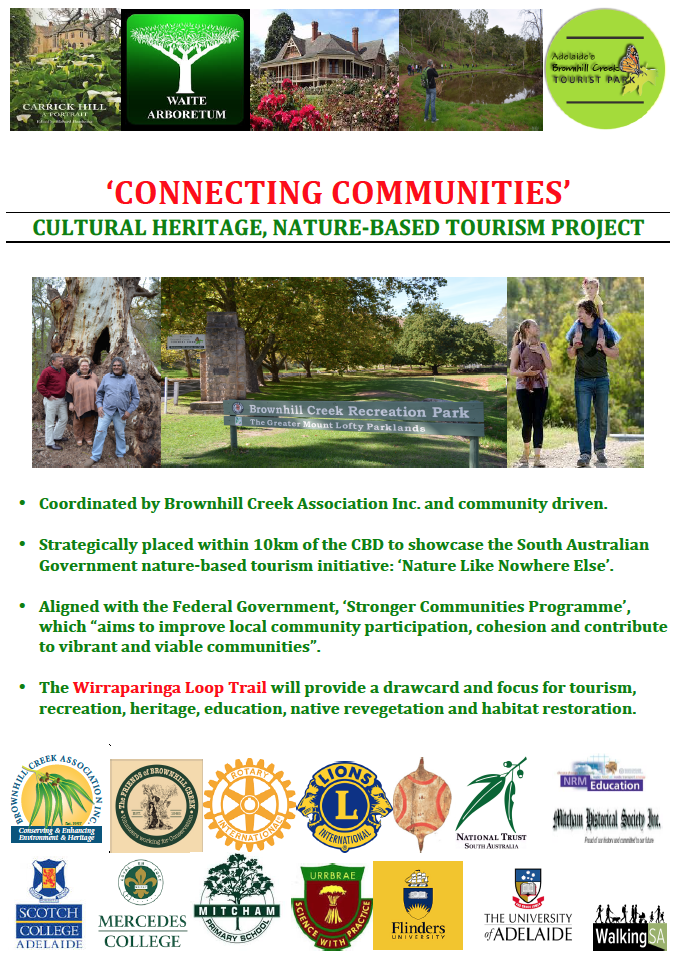 ________________________________________________________________________________
JANUARY, 2016
MITCHAM COUNCIL 2016 AUSTRALIA DAY CITIZEN OF THE YEAR AWARD
Ron Bellchambers, Community Liaison Officer for Brownhill Creek Association, proudly accepted the 2016 Citizen of the Year Award on behalf of the many community volunteers and community groups (including BCA) that worked so hard over 4 years to document and protect our local environment and heritage. The award was presented by His Excellency, the Hon. Hieu Van Le, Governor of South Australia at Carrick Hill, with Mayor Glenn Spear officiating. Exciting opportunities now exist for the restoration of Brownhill Creek, re-vegetation projects and the development of extended walking trails, educational programs and local tourism initiatives.
Australia Day 2016 Citizen of the Year Award Speech
2016 Australia Day Celebration at Carrick Hill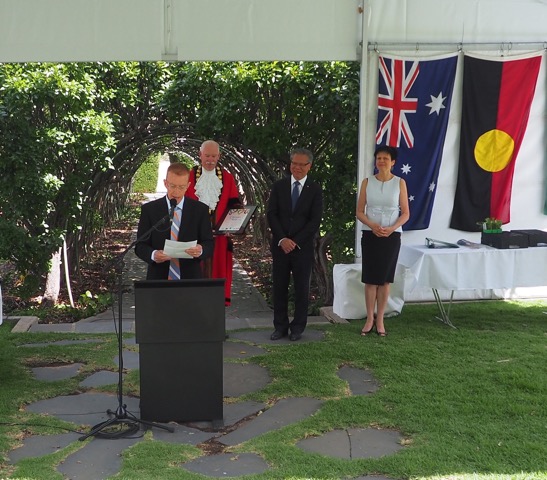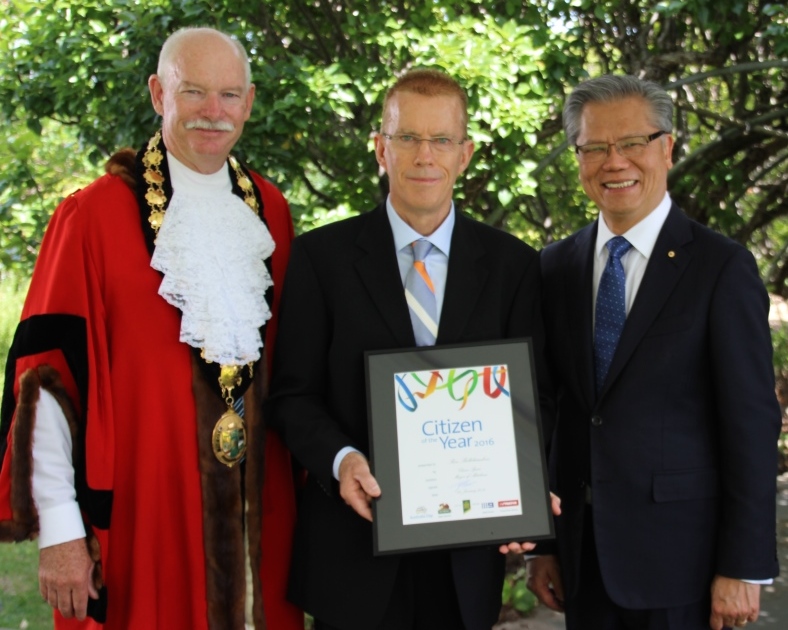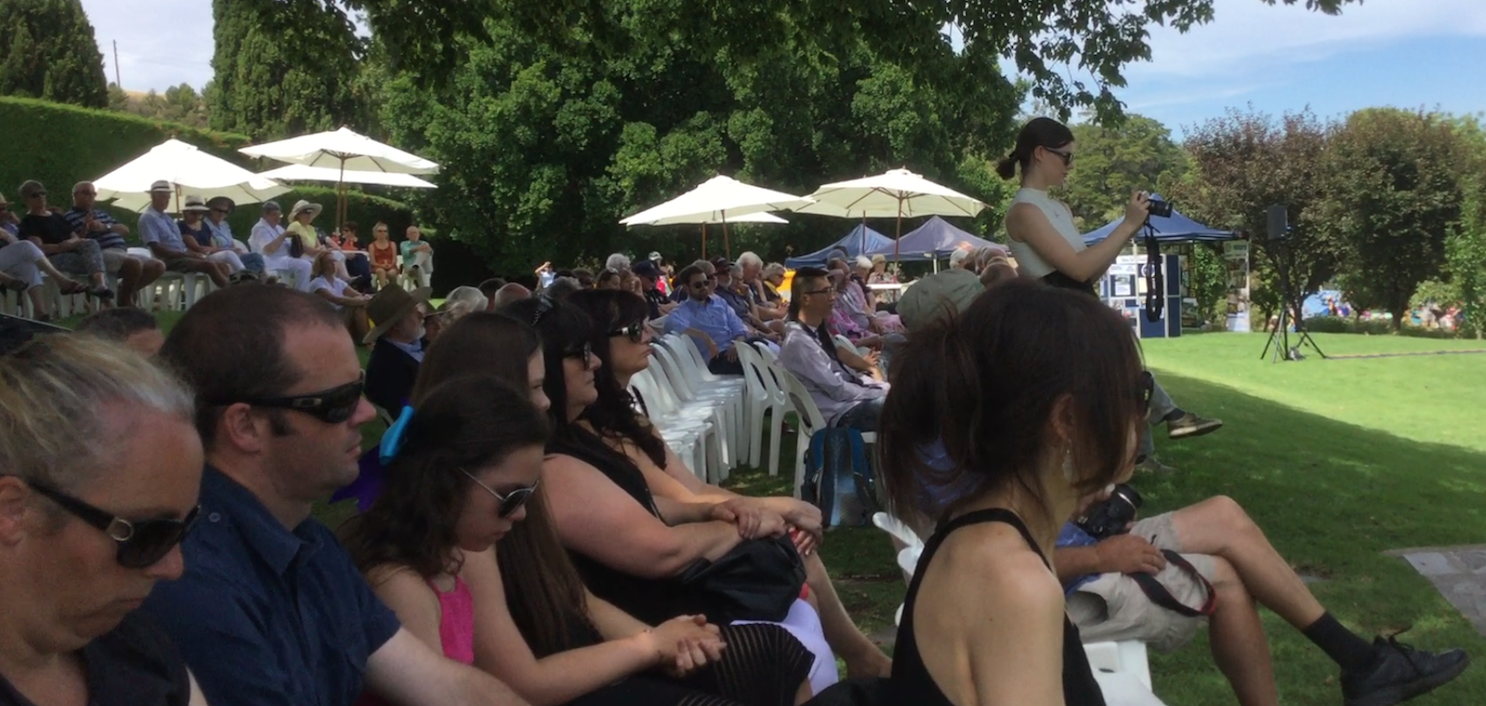 ________________________________________________________________________________
DECEMBER, 2015
South Australian Environment Awards 2015: http://www.conservationsa.org.au/awards_2015
David Wagner (photo: back row right), President of The Friends of Brownhill Creek and Ron Bellchambers (photo: back row centre), BCA Liaison Officer, were joint Runners-Up for the Conservation Council SA Unsung Heroes Award. Sandy Pitcher, the Chief Executive of the Department of Environment, Water and Natural Resources (photo: far right), presented the awards.
David Wagner's decades long volunteer work in Brownhill Creek Recreation Park is legendary and he has been an inspiration and mentor to those involved in preserving and enhancing our local environment. Ron Bellchambers led the successful no dam campaign for four years and is a member of the BCA Steering Committee, which is continuing to work with environment and heritage groups (including The Friends of Brownhill Creek) to support the revegetation and rehabilitation of Brownhill Creek, develop local tourism, aid in the expansion of community recreational and heritage walking trails and help develop educational programs with local schools.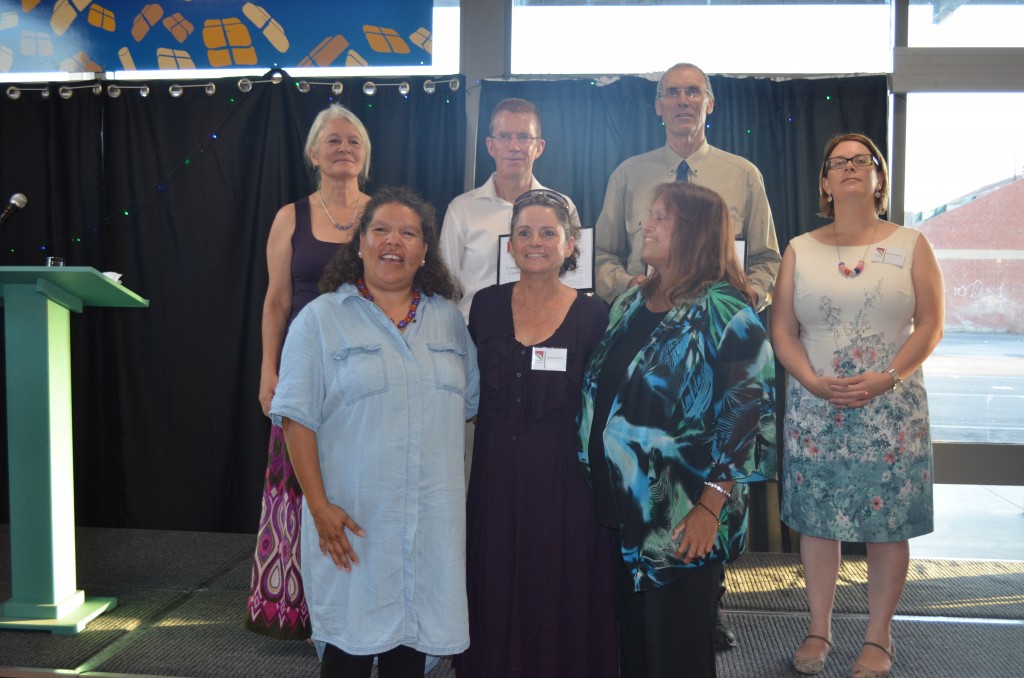 ________________________________________________________________________________
NOVEMBER, 2015
On Sunday 15th November 120 people enjoyed a wonderful evening at the BCA BBQ Tea.
Thank you to everyone that attended and to the volunteers that ran the event. Margie and Michael Andrewartha were outstanding hosts. Windsor Meats 61/63 Duthy Street Malvern and Bakers Delight  at Mitcham Square Shopping Centre kindly donated the meat and bread.
The event was not only a celebration, but an opportunity to reflect upon the many individuals and community groups that contributed over many years to such a successful outcome.
BCA hopes to maintain the strong links forged with many community groups and continue working collaboratively to document, promote, protect and enhance our shared environment and heritage. There is a determination to ensure that all stakeholders benefit from the implementation of Option D.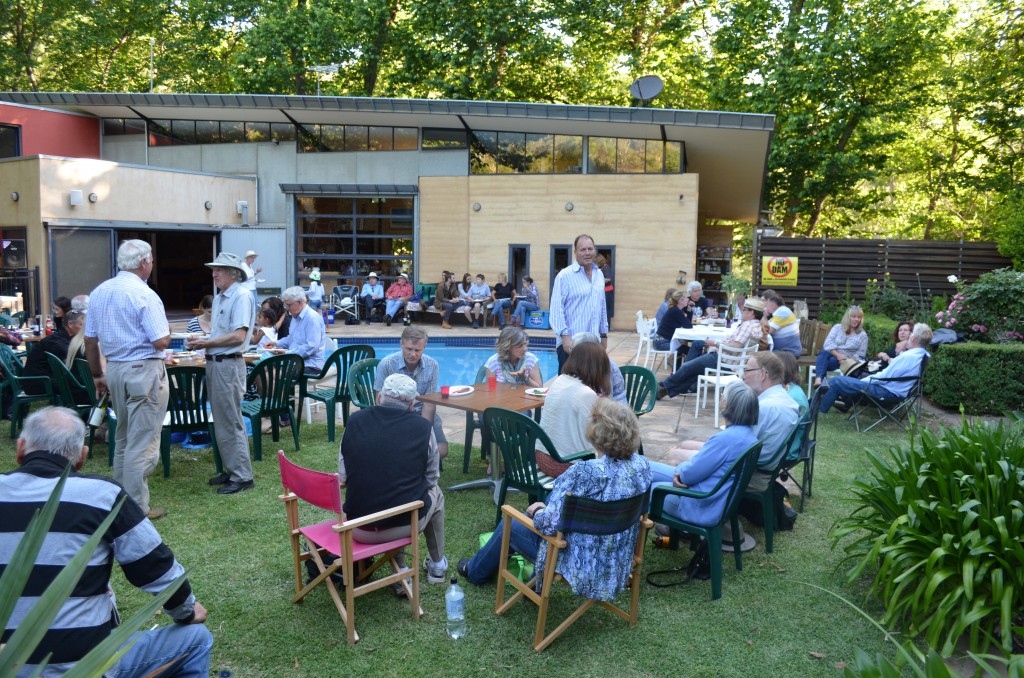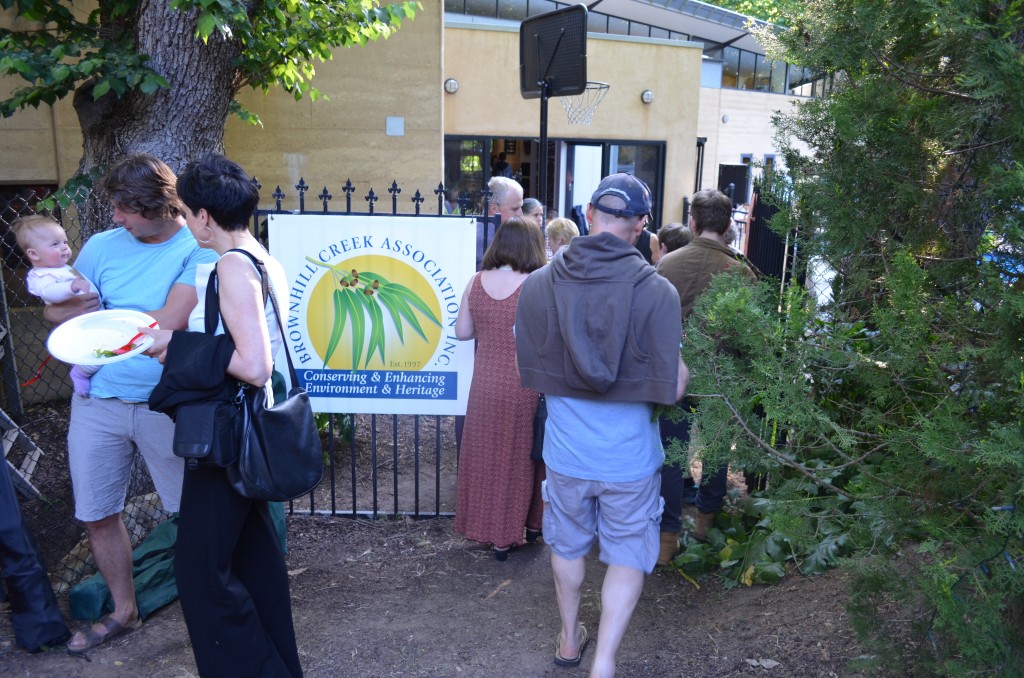 OCTOBER, 2015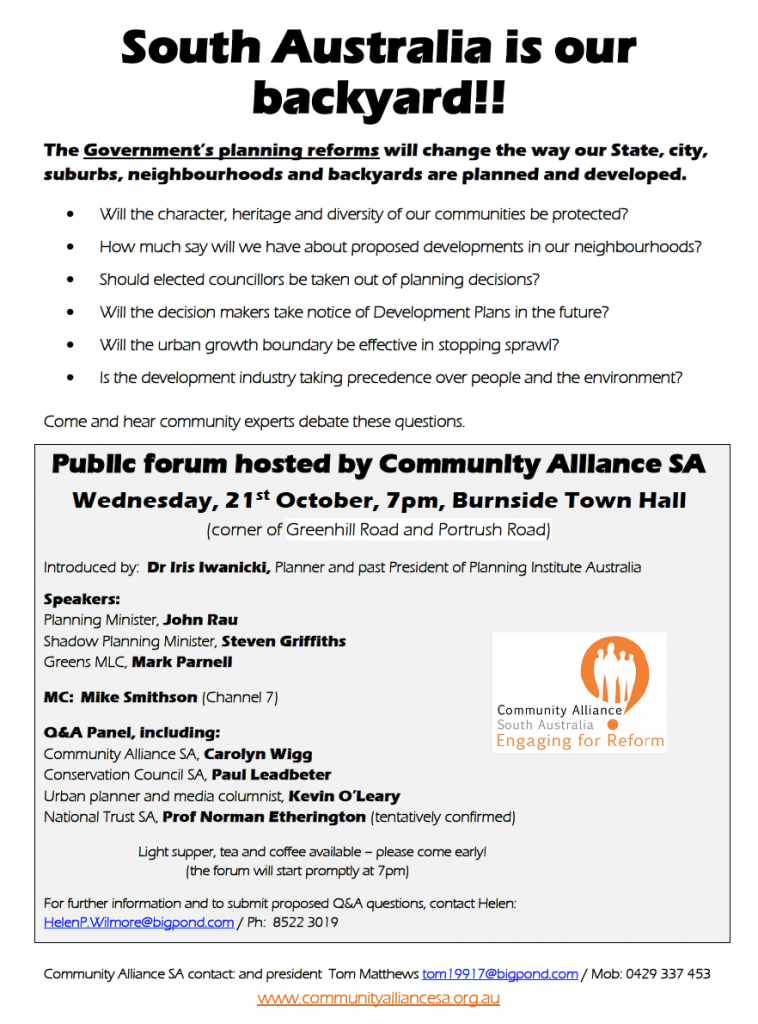 ________________________________________________________________________________
SEPTEMBER, 2015
WEST TORRENS, ADELAIDE, BURNSIDE, MITCHAM AND UNLEY COUNCILS HAVE VOTED FOR NO DAM OPTION D IN THEIR SEPTEMBER MEETINGS!
Thank you to all of our supporters who have repeatedly attended these council meetings, behaved with dignity and respect, and steadfastly supported the best possible flood mitigation solution.
_______________________________________________________________________________
18 AUGUST, 2015
BCA Chairperson Professor Wayne Meyer, KNCHA Chairperson Jeffrey Newchurch and KNCHA Vice-Chair Lynette Crocker met in Brownhill Creek Recreation Park to inspect a significant Kaurna Shelter Tree. DEWNR recently cleared the invasive feral vegetation around the tree.
The Kaurna Nation Cultural Heritage Association would like to see a full Aboriginal Cultural Heritage Survey undertaken in these valleys, so that precious Kaurna heritage can be preserved and shared with the community. This will benefit the Kaurna community, our schools, tourism and regular visitors to these valleys. The KNCHA reaffirmed their support for No Dam Option D and the rehabilitation of Willawilla / Brownhill Creek.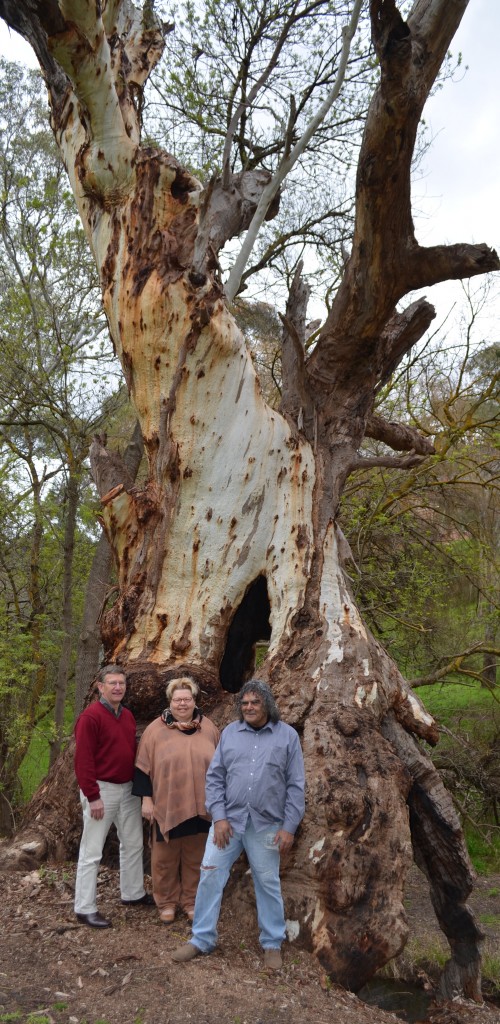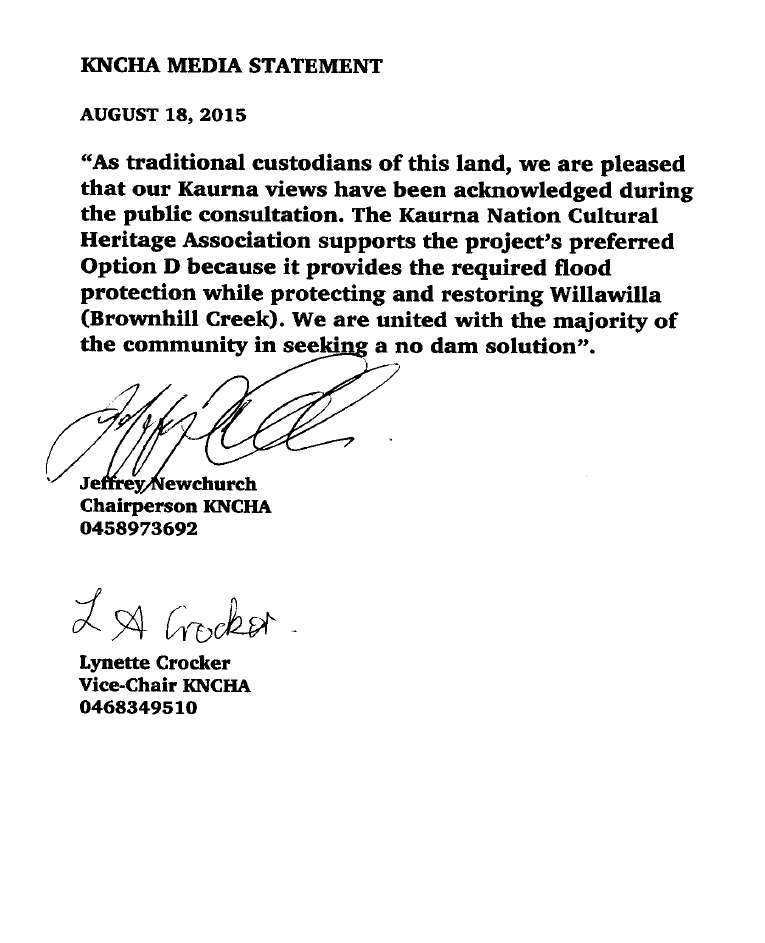 JUNE, 2015
PUBLIC CONSULTATION: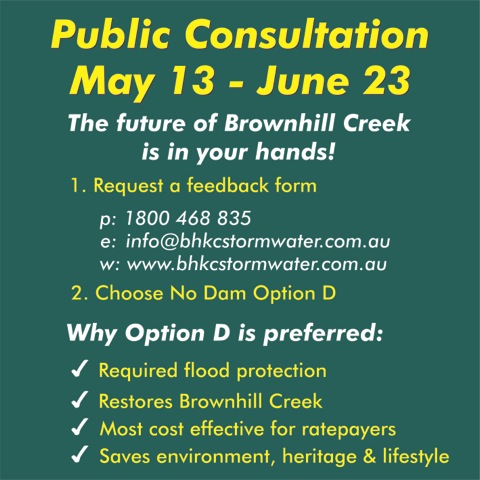 ________________________________________________________________________________
EDO FUNDRAISING:
Help fund and save our Environmental Defenders Office SA (EDO), while having a fun time.
150418 HELP SAVE OUR EDO LETTER FOR MOVIE FUNDRAISER 6 6 2015
MAY, 2015
Thank you to everyone who organised and attended the wonderful lunch and guided walk in Ellison's Gully. Over 60 attended! We were left with the feeling that this special valley must be preserved. What an asset for Nature Tourism and Heritage Walks.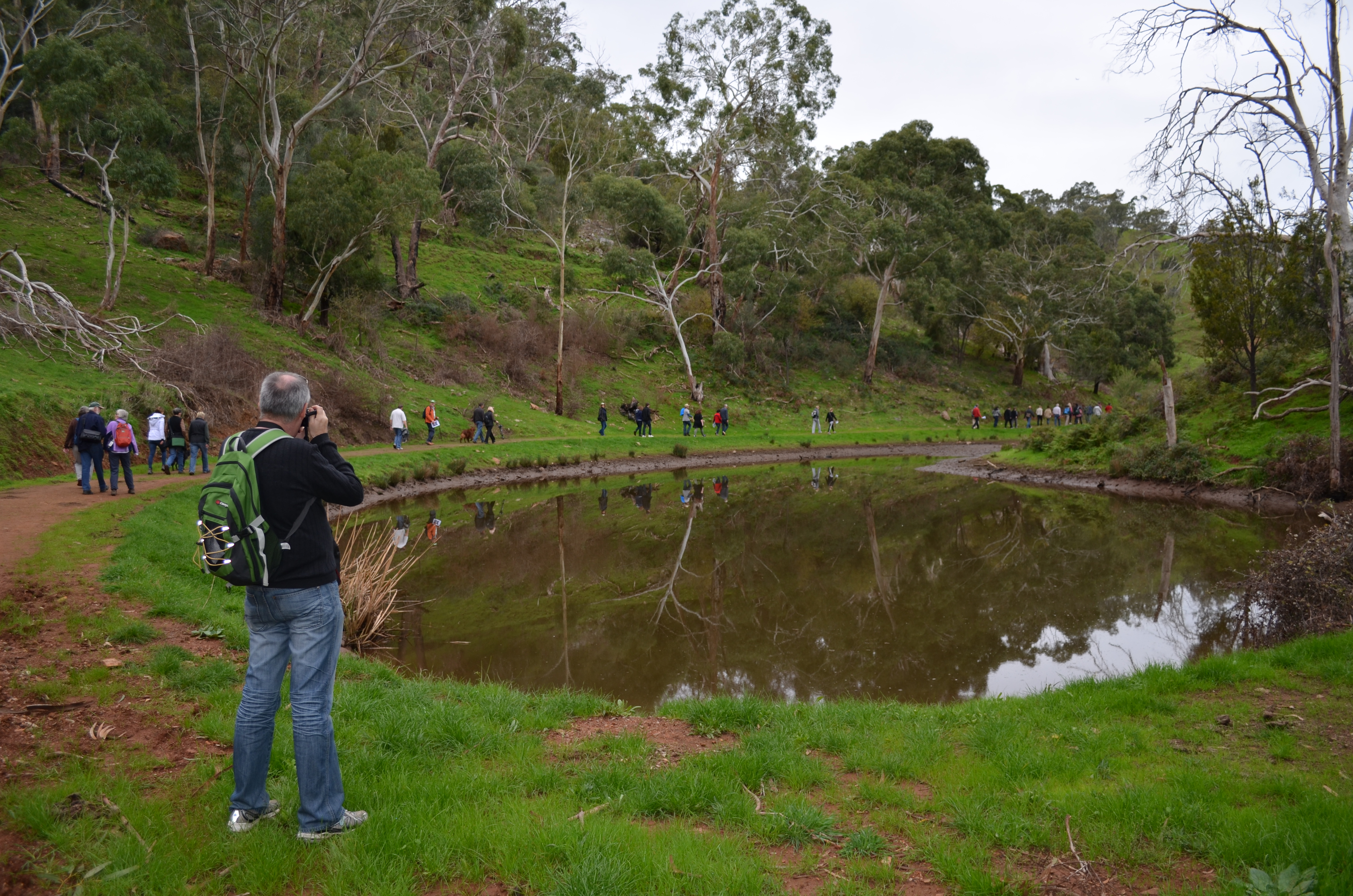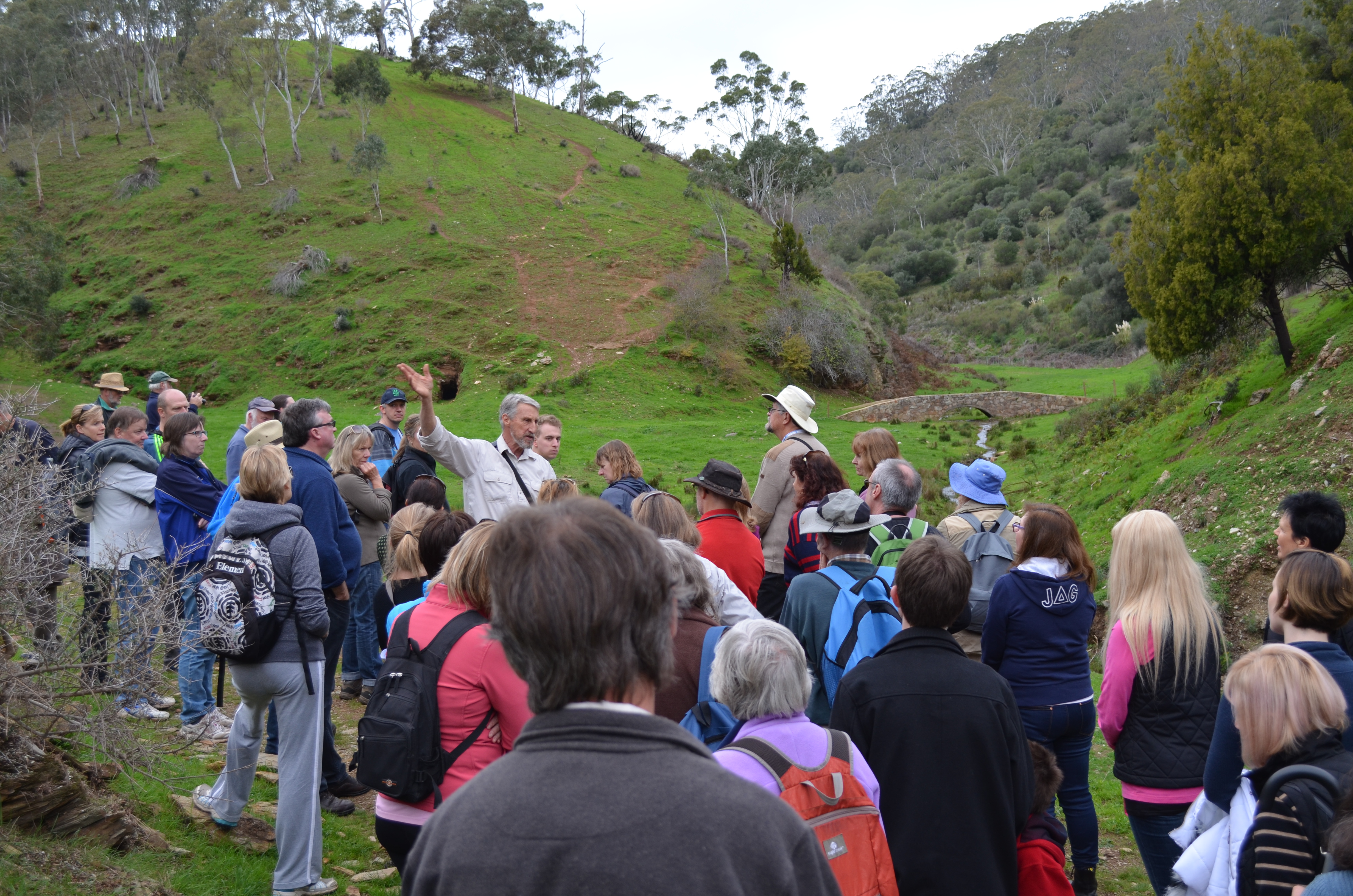 Ellison's Gully Lunch and Guided Walk on Sunday 24th May, 2015. 
Meet at "The Junction", where Brownhill Creek Road and Tilley's Hill Road meet and where the two arms of Brownhill Creek join together. Lunch from 12 noon and a guided walk from 1.30pm. Local Mitcham Councillor for Boorman Ward, Cr Andrew Tilley, will be leading the walk.
A sausage sizzle, salads and soft drinks for $10, to aid our campaign (toilets available).
Enjoy a social gathering and learn about the heritage and environment of Ellison's Gully.
The guided walk is part of History Month in May.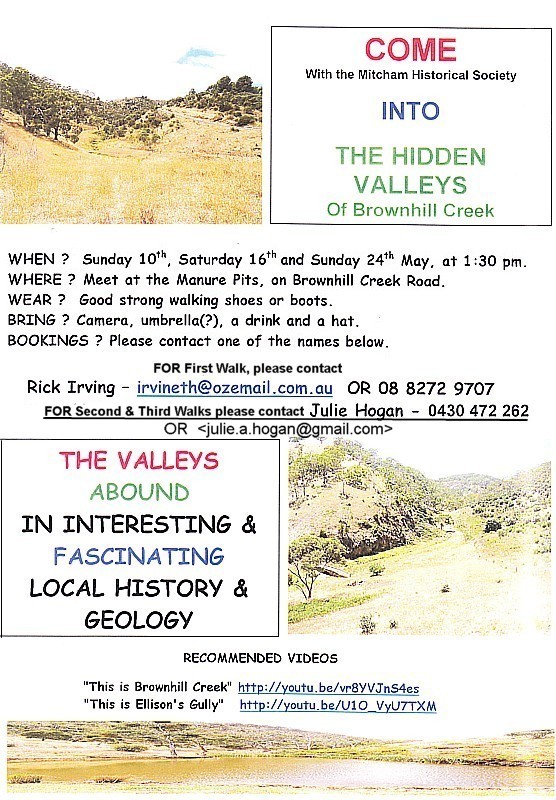 ________________________________________________________________________________
OCTOBER, 2014
Voting in Local Council elections: Please go to our NEWS PAGE for a No Dam voting guide.
Mitcham Council Election Information
Ask the candidates in your local council ward what their position is on No Dam Option D. Please direct them to our website and let them know your thoughts.
Voting forms will be mailed to you between Monday 20th-Friday 24th October, 2014 and you must mail your voting ballot paper, or lodge it personally at your local council, by 5pm on November 7th.
Thank you to all our supporters that have taken part in letter boxing and helped at Mitcham Shopping Centre. The Friends of Brownhill Creek have appreciated the additional memberships and the promotion of environmental values. We are very fortunate to live in Mitcham and it is a worthwhile cause to preserve our community's environment, heritage and lifestyle.
________________________________________________________________________________
SEPTEMBER, 2014
Our formal campaign will begin. Please expect group emails.
Contact 0427718106 or email brownhillcreek@gmail.com to join us.
______________________________________________________________________________
22 JULY, 2014: ANOTHER SUCCESSFUL DEPUTATION
Thank you once again to our supporters for turning up in such large numbers to our latest deputation to Mitcham Council. We had majority support and as usual our supporters were passionate, yet respectful of our council and other members of the gallery. Well done!
NATIONAL RECONCILIATION WEEK: BRINGING OUR COMMUNITIES TOGETHER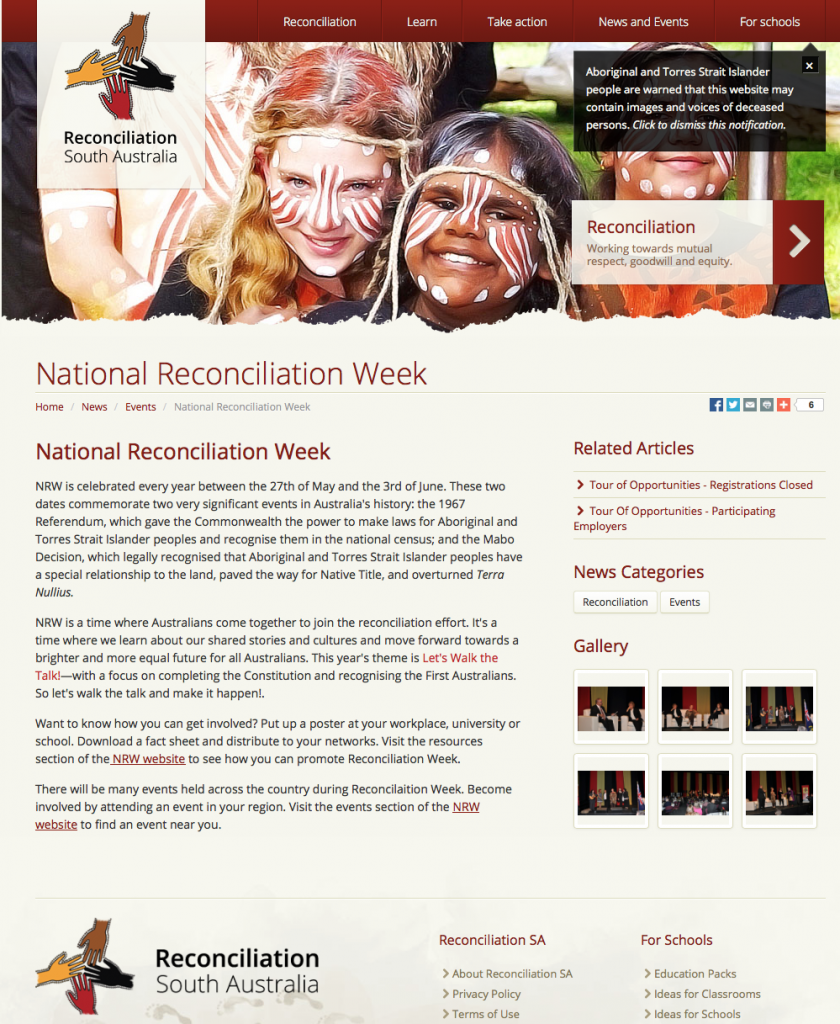 The Kaurna Community have helped us immensely in our joint fight to save the environment and heritage of Brownhill Creek Valley/Wirraparinga/Ellison's Gully. Willawilla or Brownhill Creek flows through Ellison's Gully and Brownhill Creek Recreation Park.
National Reconciliation week provides a wonderful opportunity to bring our communities even closer together.
The Recognise campaign is vitally important to promote and hopefully finally achieve Aboriginal equality under our democratic constitution.
national+sorry+day+A4+poster+2014
————————————————————————————————————————————–
CELEBRATE SOUTH AUSTRALIA'S HISTORY DURING THE SA HISTORY FESTIVAL IN MAY
TAKE A BUS TOUR OF BROWNHILL CREEK (BOOKINGS 83728261) OR A WALKING TOUR OF ELLISON'S GULLY (SATURDAY 17TH MAY, 1.30-4.30PM. DRIVE UP BROWNHILL CREEK ROAD AND MEET AT THE 'MANURE PITS').
————————————————————————————————————————————–
THANK YOU TO THE COMMUNITY:
WHAT AN AMAZING NIGHT! THANK YOU TO THE 150 WHO ATTENDED AT SUCH SHORT NOTICE. YOU SENT A POWERFUL MESSAGE THAT HAS BEEN HEARD. TO THOSE WHO COULD NOT MAKE IT, A FULL VIDEO OF THE DEPUTATION IS AVAILABLE ON THE HOME PAGE.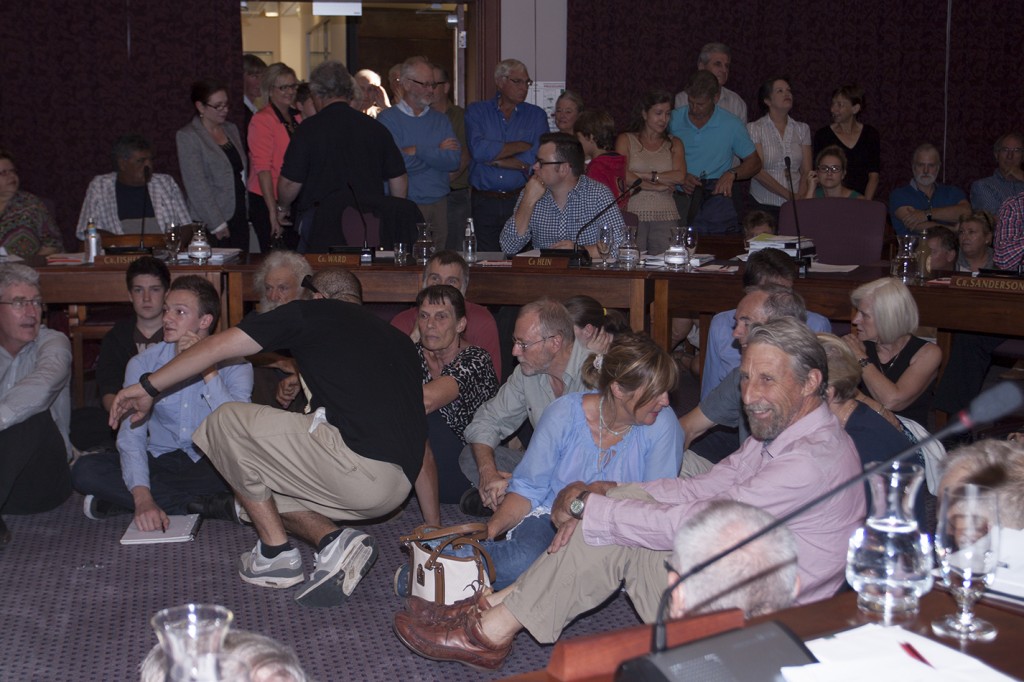 DEPUTATION TO MITCHAM COUNCIL:
WE NEED YOUR SUPPORT AT A CRUCIAL TIME! 
We will be making a deputation to Mitcham Council at their full council meeting on Tuesday 25th February at 7pm (131 Belair Road, Torrens Park). We are gathering at 6.45pm. Entry is from the rear car park.
This meeting marks a turning point in the No Dam campaign, with a crucial vote and the presentation of our 10,000 strong No Dam petition. Please attend as your support is vitally important. Our deputation, agenda item and vote will be at the beginning of the meeting.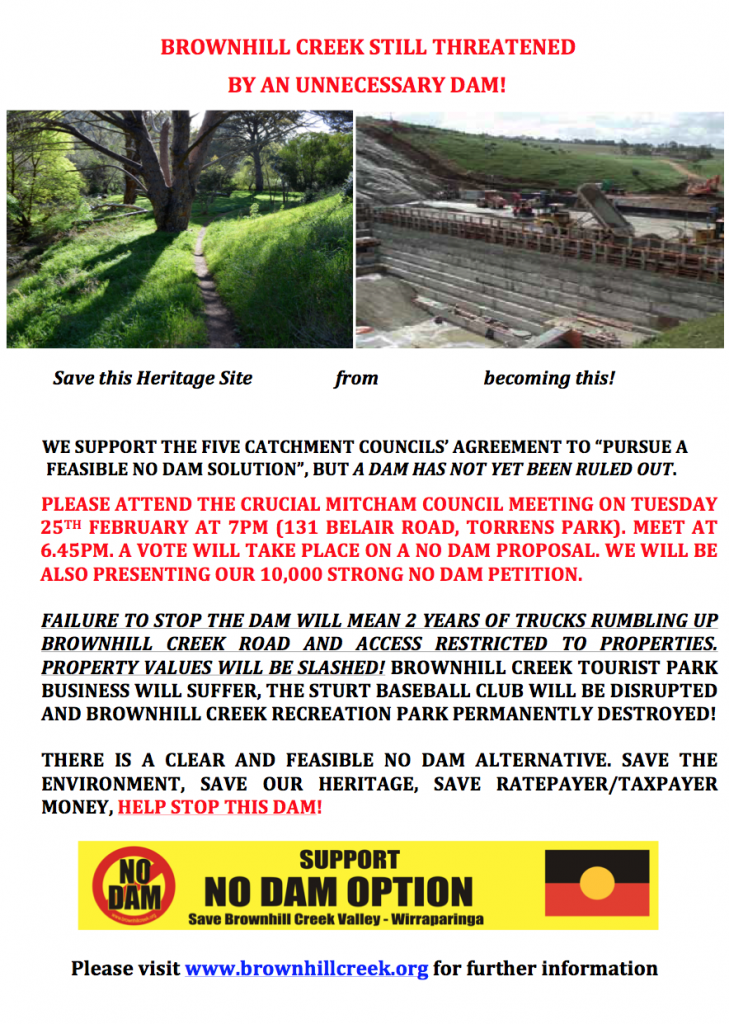 OUR GROUP IS NOW PLANNING A CAMPAIGN.
The No Dam Petition now has over 10,000 signatories and major financial backing is promised.
We will be in touch via email.