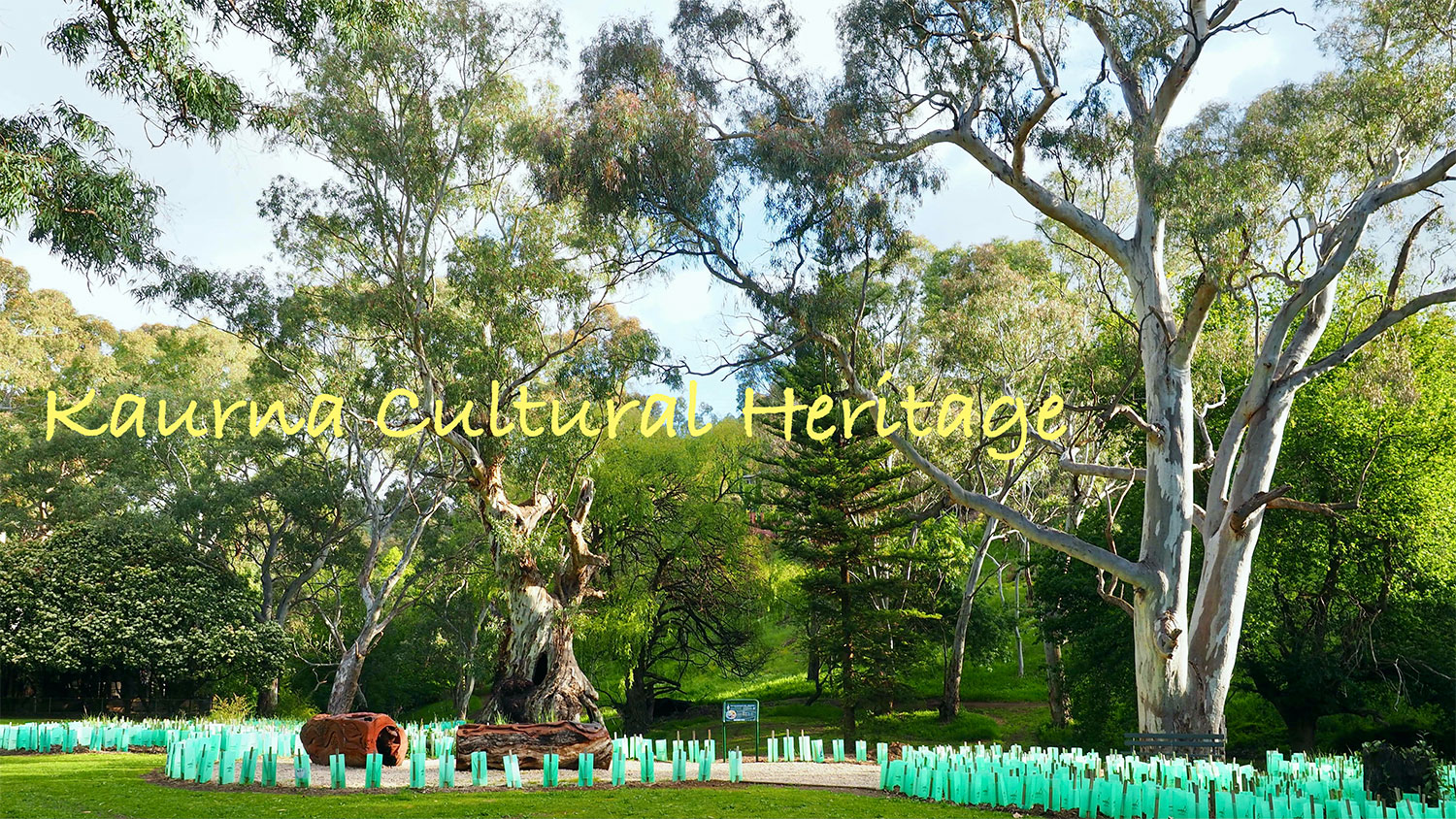 Welcome / Niina Marni.
BCA acknowledges that this is the traditional land of the Kaurna people and that we respect their spiritual relationship with Kaurna Country.
We also acknowledge the Kaurna people as the custodians of the Adelaide region and that their cultural and heritage beliefs are  important to Kaurna people today.
We pay respect to Elders past, present and emerging and acknowledge the cultural authority of Aboriginal people visiting/attending from other areas of South Australia/Australia.
BCA is working closely with our First Nations partners to achieve practical outcomes that strengthen cultural understanding and reconciliation.
Kaurna Shelter Tree Project
This project is years in the making and follows the wishes of Kaurna Elders and recommendations made in the Kaurna Shelter Tree Management Plan, Kym Knight Consulting Arborist Tree Environs, 25th May 2018, page 17.
The project aims to:
Protect the iconic Kaurna Birthing Tree, a 450+ year old remnant River Red Gum, located at the entrance to Brownhill Creek Recreation Park / Wirraparinga, while improving biodiversity and habitat.
Respect living Kaurna Heritage by telling the story of the tree and establishing a Kaurna Place of Reflection and Reconciliation.
Promote Kaurna engagement, employment and art.
Create community connections, involve volunteers and achieve educational outcomes
Integrate the Kaurna Shelter Tree into the Wirraparinga Loop Trail tourism project.
The scope of works is as follows:
Stage 1 (Completed)
Clear woody weeds from around the Kaurna Shelter Tree.
Plant a native garden to protect the root zone using local native species.
Create a Kaurna Place of Reflection and Reconciliation with two carved red gum log seats (Allan Sumner) and interpretive signage to tell the Kaurna story.
Stage 2 (To be completed by December 2022)
Restoration of the eroded creek bank at the Kaurna Shelter Tree in the most natural way possible, to help protect the tree and allow visitors to safely view the tree in a culturally sensitive manner.
Dry stone walls will be constructed by 30 June 2022 to retain the eroded bank and create a viewing area (National Parks & Wildlife Service SA funding secured).
A balustrade will be constructed and installed to allow the community to safely view the tree (Federal Stronger Communities Program Grant – SCP7)
An additional 800 native plants will be planted by community volunteers to complete the natural landscaping, control erosion along the creek bank and improve native biodiversity and habitat (SCP7).
A safe creek crossing will be established to allow the community to cross the creek from the viewing area to a picnic area, where people will be able to enjoy and interact with the creek environment and also view the tree (SCP7).
Brownhill Creek Association's Project Partners: Kaurna Nation; Kaurna Elders Auntie Lynette Crocker, Uncle Jeffrey Newchurch, Uncle Mickey O'Brien, Uncle Lewis O'Brien and Kaurna artist Allan Sumner; Scotch College Adelaide; Mitcham Historical Society; Suzanne Elliott Charitable Trust; Friends of Brownhill Creek Recreation Park; Rotary Club of Brownhill Creek; Rotary Club of Mitcham; National Parks & Wildlife Service SA; Green Adelaide; Federal Government Stronger Communities Programme Grants; Support from BCA's Education & Revegetation Committee, including Scotch College, Mercedes College, Urrbrae Agricultural High School, Mitcham Primary School and Mitcham Girls High School; local volunteers. Contact: Ron Bellchambers, BCA Community Engagement Officer and BCA Kaurna Shelter Tree Project Officer (M) 0427 718 106.
Kaurna Shelter Tree Management Plan
Prepared for:
Peter Goonan
Principal Scientific Officer (Aquatic Biology)
Environment Protection Authority GPO Box 2607
Adelaide
SA 5001
25 May 2018
Prepared by:
Kym Knight Consulting Arborist Tree Environs Pty Ltd 
Since 2018, Scotch students have been working to help revegetate a box grassy woodland site within Brownhill Creek Recreation Park with indigenous plant species. Since then we have had several groups of Year 5s actively restoring and recording the development of the site as one of our long-term commitments to the local community.
A further community-based opportunity was presented to us in later 2019, when we we approached by Ron Bellchambers, to undertake a joint venture – the restoration of a 450-year-old River Red Gum Kaurna Shekter tree.