APRIL 2018
BCA NewsPage-April 2018-From Strength to Strength
MARCH 2018
Congratulations to the Kaurna Community on their successful Land Title Claim! We highly value and respect our partnership with the Kaurna Nation Cultural Heritage Association.
Kaurna people granted native title rights in Adelaide 18 years after claim – ABC News (Australian Br
Our ancestors will be smiling: Kaurna people gain native title rights
FEBRUARY 2018
Great news for the Brown Hill Keswick Creek Stormwater Management Project.
Regional Subsidiary gazetted: Approval of BHKC – Government Gazette 27 February 2018
JANUARY 2018
OCTOBER 2017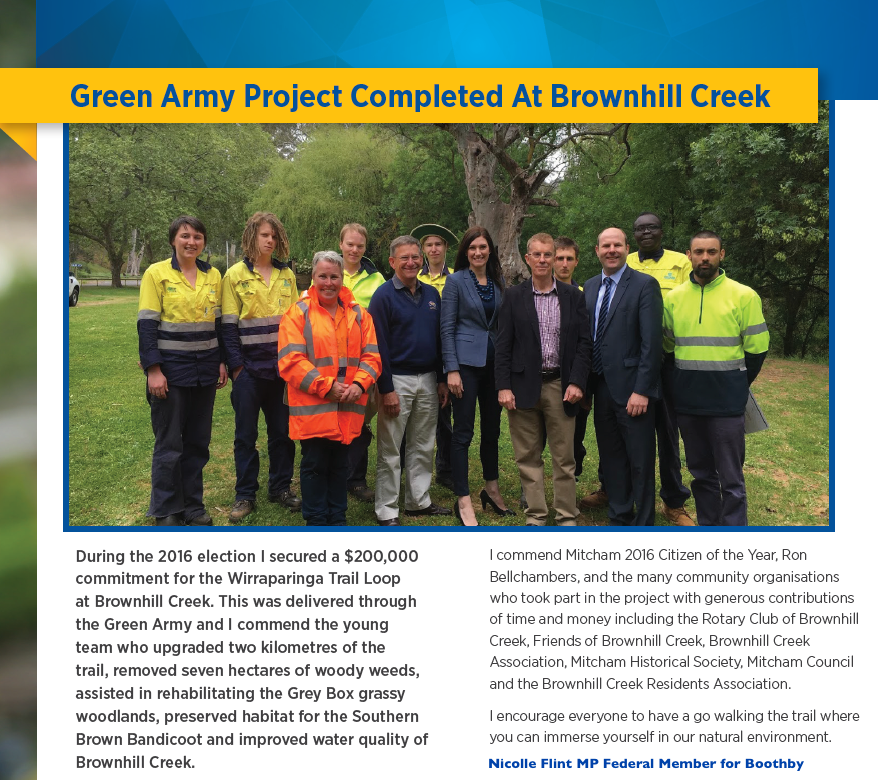 AUGUST 2017
Wirraparinga Loop Trail Update-24 August 2017
JUNE, 2017
GREEN ARMY PROJECT HAS BEGUN IN BROWNHILL CREEK RECREATION PARK.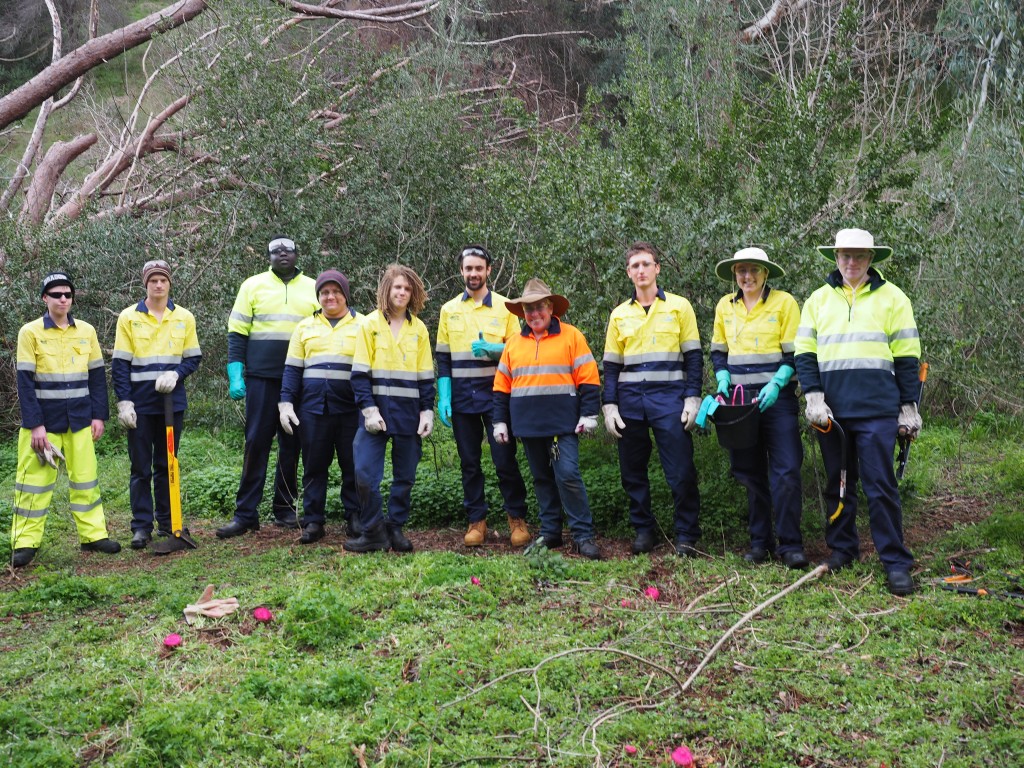 APRIL, 2017
GREEN ARMY PROJECT TO BEGIN IN BROWNHILL CREEK RECREATION PARK ON 29 MAY, 2017.
APPLY NOW IF YOU ARE BETWEEN 17 AND 24 YEARS OF AGE.
Green Army Brownhill Creek Project – 29 May 2017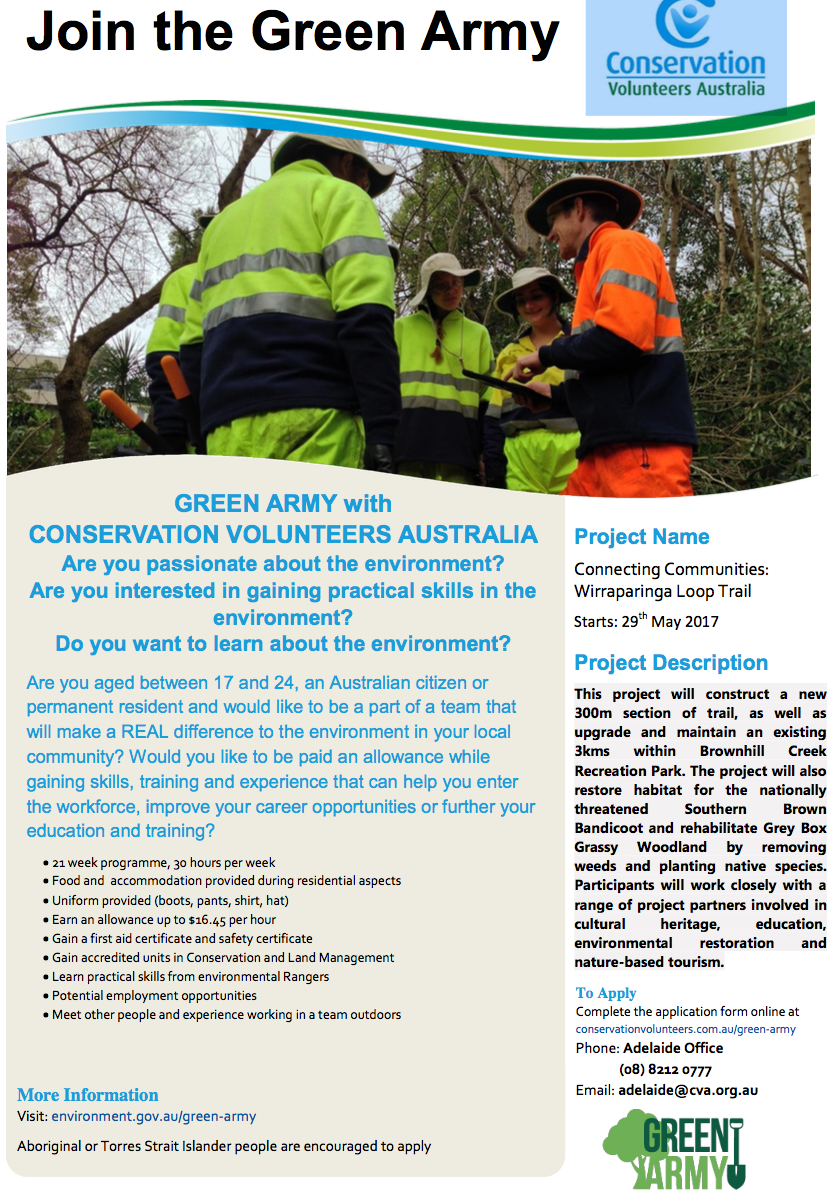 FEBRUARY, 2017
THE BROWN HILL KESWICK CREEK STORMWATER MANAGEMENT PLAN HAS BEEN APPROVED BY THE STORMWATER MANAGEMENT AUTHORITY. THE FIVE CATCHMENT COUNCILS AND THE STATE GOVERNMENT HAVE REACHED AN AGREEMENT ON FUNDING! THE PROJECT CAN NOW PROCEED AND WILL DELIVER THE REQUIRED FLOOD PROTECTION ACROSS THE BROWNHILL CREEK AND KESWICK CREEK CATCHMENTS WITHOUT A DAM IN UPPER BROWNHILL CREEK.
CONGRATULATIONS TO ALL THOSE WHO HAVE WORKED COLLABORATIVELY AND TIRELESSLY OVER MANY YEARS TO ACHIEVE THIS HISTORIC AGREEMENT!
THE FEDERAL GOVERNMENT SHOULD ALSO COMMIT FUNDS TO PROTECT FEDERAL INFRASTRUCTURE AND HELP SPEED UP THE IMPLEMENTATION OF THE PROJECT.
http://www.abc.net.au/news/2017-02-27/adelaide-flood-mitigation-plan-to-protect-most-properties/8307610
FEBRUARY, 2017
CONFIRMED SOUTHERN BROWN BANDICOOT SIGHTINGS IN BROWNHILL CREEK RECREATION PARK!
Giles Goldney, TAFE lecturer in Conservation and Land Management and his students made two confirmed sightings of the nationally endangered (EPBC Act) Southern Brown Bandicoot (Isoodon Obesulus) in Brownhill Creek Recreation Park. One confirmed sighting was at Seven Pines and one further up the valley (see map). This follows the confirmation of a colony of Southern Brown Bandicoots in Brownhill Creek Recreation Park by DEWNR ecologists and rangers and another confirmed sighting by Flinders University student Peter Reeve.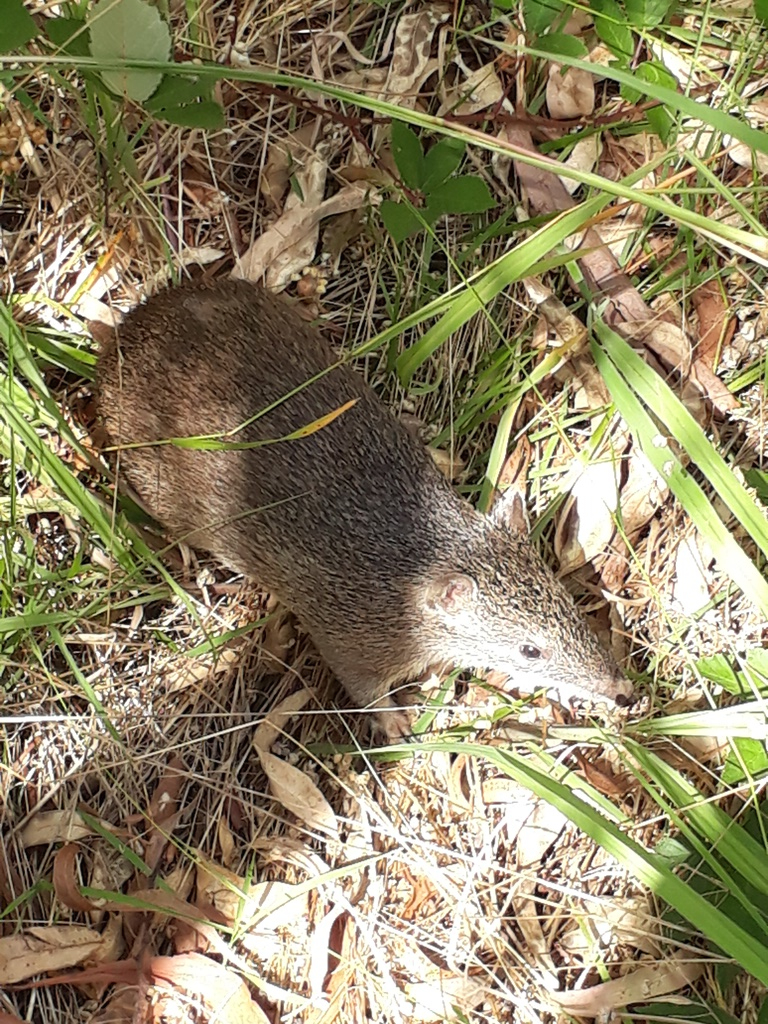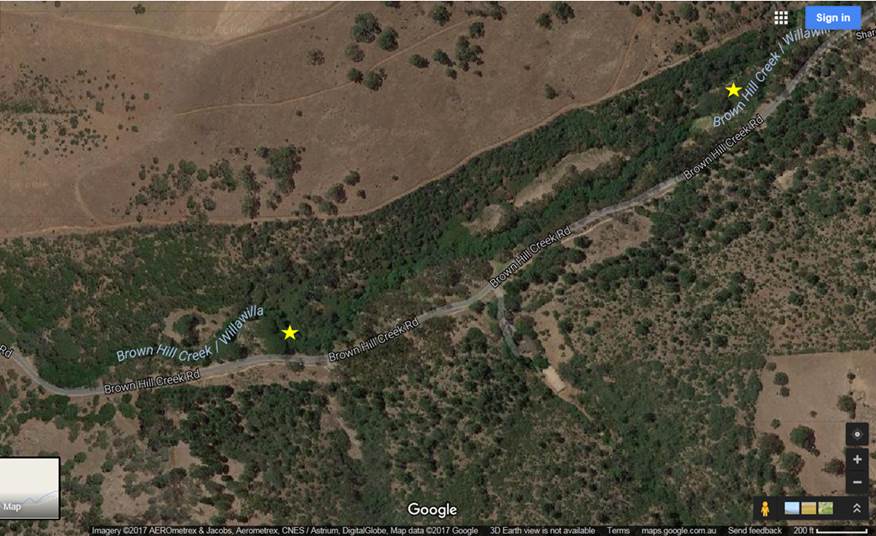 FEBRUARY, 2017
WIRRAPARINGA LOOP TRAIL STAKEHOLDER AGREEMENT MEETING A SUCCESS!
OCTOBER, 2016
BROWNHILL CREEK ENVIRONMENTAL ACTION DAY:

The Brownhill Creek Environmental Action Day on Friday 21st October was a successful and enjoyable event.
Thank you to the main organisers Ann-Louise Breeding (Urrbrae Wetlands Manager) and Jeremy Gramp (NRM Education), along with Garth Borroughs (Urrbrae Agricultural High School), Steve Walker (NRM Education), David Pace (Scotch College) and Professor Wayne Meyer. Thanks also to the Urrbrae students who provided leadership roles, all NRM/DEWNR support staff, teachers, parents and the many helpers.
Gavin Dyer, the proprietor of Brownhill Creek Tourist Park and his staff are to be commended for supporting the event and generously providing their facilities.
We are indeed fortunate to have Professor Wayne Meyer as Chairperson of the Education & Revegetation Committee and to have such talented and committed committee members. Thank you to Scotch College for hosting the committee meetings and for strongly supporting our aims and objectives.
The almost 200 students that attended enjoyed their outdoor classroom and the range of activities on offer. Their behaviour, enthusiasm and level of involvement was exemplary.
It was an honour and privilege to have Professor Chris Daniels as keynote speaker and to have Kaurna Elders Jeffrey Newchurch and Frank Wanganeen sharing their cultural heritage and welcoming us to country.
Mitcham Council's, Mitcham Heritage Research Centre, provided expert historical information and the expertise of NRM Education and DEWNR staff is invaluable.
Attached below is the programme and a summary of the Cultural Heritage session which concentrated on just the entrance to Brownhill Creek Recreation Park (one of 12 possible activities on the day). A summary of all other activity sessions (science based) will be available soon.
AUGUST/SEPTEMBER,2016
DEWNR-letter-of-support-connecting-communities-project-wirraparinga-loop-trail
BCA-NewsPage-connecting-communities-project-update-and-the-recent-flood-event
JUNE/JULY, 2016
FEDERAL ELECTION: BREAKING NEWS!
1. THE FEDERAL COALITION GOVERNMENT HAVE PROMISED TO DELIVER A $200,000.00 GREEN ARMY PROJECT FOR THE WIRRAPARINGA LOOP TRAIL AND BROWNHILL CREEK!
20160616 Hunt, Birmingham and Flint – Joint Media Release – Coal
2. LABOR COMMITS TO FLOOD MITIGATION FOR BROWNHILL AND KESWICK CREEKS!
News_Release_21_June_-_Labor_flood_mitigation_pledge_for_Brown_Hill_and_Keswick_Creeks
MAY/JUNE, 2016
A 'CONNECTING COMMUNITIES: CULTURAL HERITAGE AND NATURE-BASED TOURISM PROJECT' IS BEING PLANNED!
BCA NewsPage-Connecting Communities Project
________________________________________________________________________________
MITCHAM COUNCIL AUSTRALIA DAY 2016 CITIZEN OF THE YEAR AWARD
Ron Bellchambers, Community Liaison Officer for Brownhill Creek Association, proudly accepted the 2016 Citizen of the Year Award on behalf of the many community volunteers and community groups (including BCA) that worked so hard over 4 years to document and protect our local environment and heritage. The award was presented by His Excellency, the Hon. Hieu Van Le, Governor of South Australia at Carrick Hill, with Mayor Glenn Spear officiating. Exciting opportunities now exist for the restoration of Brownhill Creek, re-vegetation projects and the development of extended walking trails, educational programs and local tourism initiatives.
Australia Day 2016 Citizen of the Year Award Speech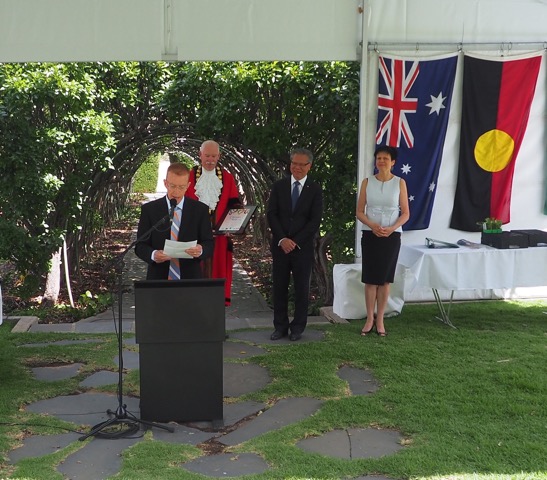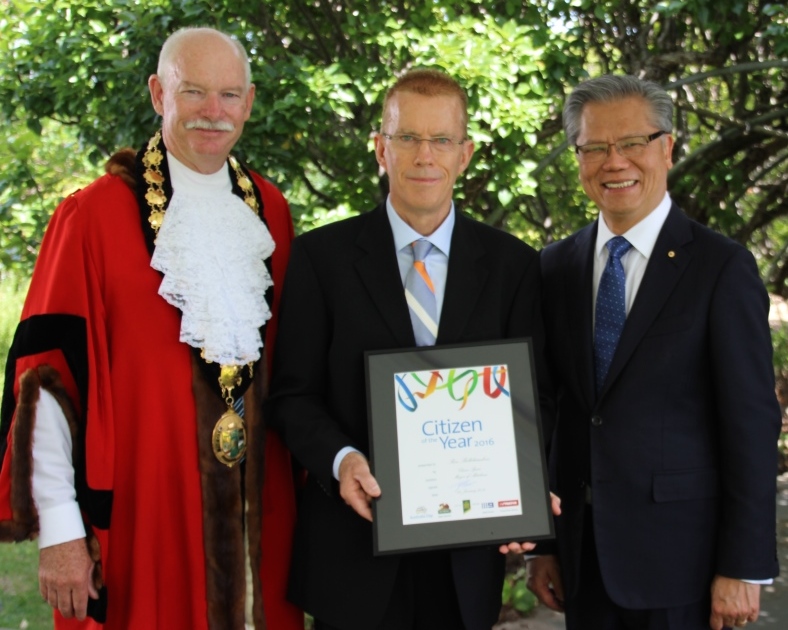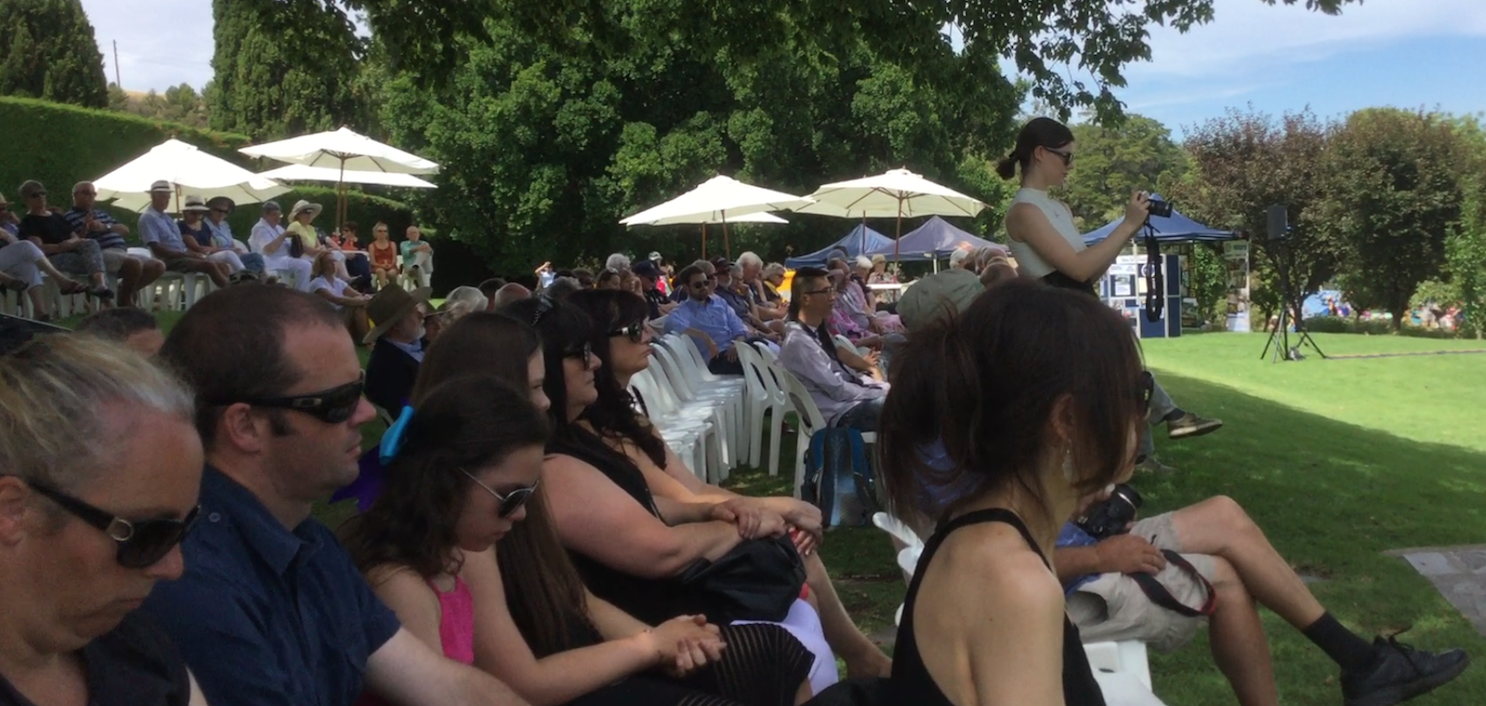 _______________________________________________________________________________
CONSERVATION COUNCIL SA AWARDS
http://www.conservationsa.org.au/awards_2015
David Wagner (photo: back row right), President of The Friends of Brownhill Creek and Ron Bellchambers (photo: back row centre), BCA Liaison Officer, were joint Runners-Up for the Conservation Council SA Unsung Heroes Award. Sandy Pitcher, the Chief Executive of the Department of Environment, Water and Natural Resources (photo: far right), presented the awards.
David Wagner's decades long volunteer work in Brownhill Creek Recreation Park is legendary and he has been an inspiration and mentor to those involved in preserving and enhancing our local environment. Ron Bellchambers led the successful no dam campaign for four years and is a member of the BCA Steering Committee, which is continuing to work with environment and heritage groups (including The Friends of Brownhill Creek) to support the revegetation and rehabilitation of Brownhill Creek, develop local tourism, aid in the expansion of community recreational and heritage walking trails and help develop educational programs with local schools.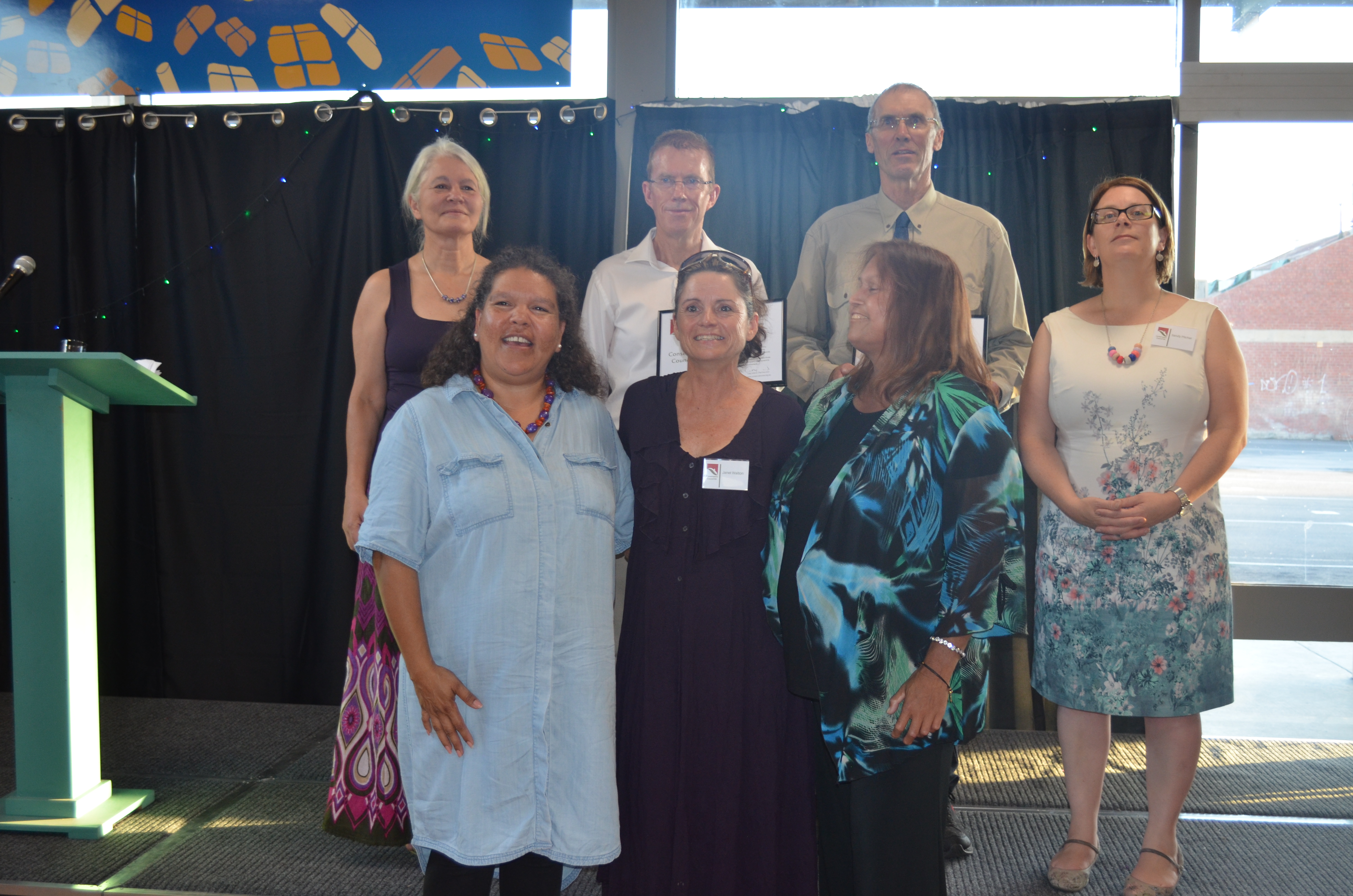 ________________________________________________________________________________
ALL FIVE COUNCILS HAVE VOTED IN FAVOUR OF NO DAM OPTION D. 
There is no chance of a dam option proceeding in upper Brownhill Creek. 
A Brown Hill Keswick Creek Stormwater Management Plan is now being finalised for approval by the Stormwater Management Authority in early 2016. This final Stormwater Management Plan will combine Part A Works (80% of the plan) in the urban sub-catchments of lower Brownhill Creek and Keswick, Glen Osmond and Parklands Creeks with Part B Works (20% of the plan) in the upper Brownhill Creek catchment (Option D).
Councils and community groups can now join together to seek funding and make sure that all stakeholders and our shared environment and heritage benefit from the implementation of a Brown Hill Keswick Creek Stormwater Management Plan. 
This is a historic agreement and BCA wishes to thank everyone who has worked so hard over many years to achieve this common sense outcome in upper Brownhill Creek. A special thank you must go to West Torrens Council and Mitcham Council for their patience and leadership in working towards a collective solution. Adelaide, Burnside and Unley Councils should also be thanked for their efforts to achieve a resolution.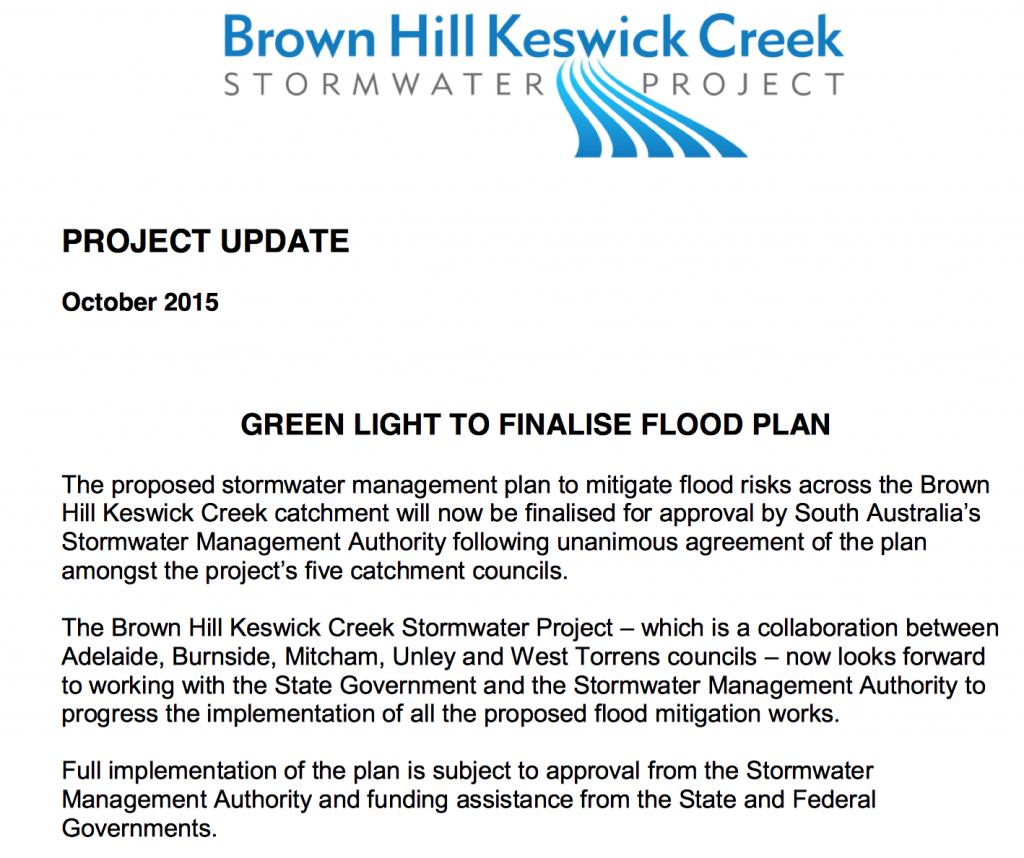 _______________________________________________________________________________
VALUE OF BROWNHILL CREEK RECREATION PARK AND ENVIRONS RECOGNISED IN THE MESSENGER PRESS: "Features in our top five list of the best walking and cycling trails in the district" (Mitcham & Hills Messenger, 21 October, 2015).
http://messenger.newspaperdirect.com/epaper/viewer.aspx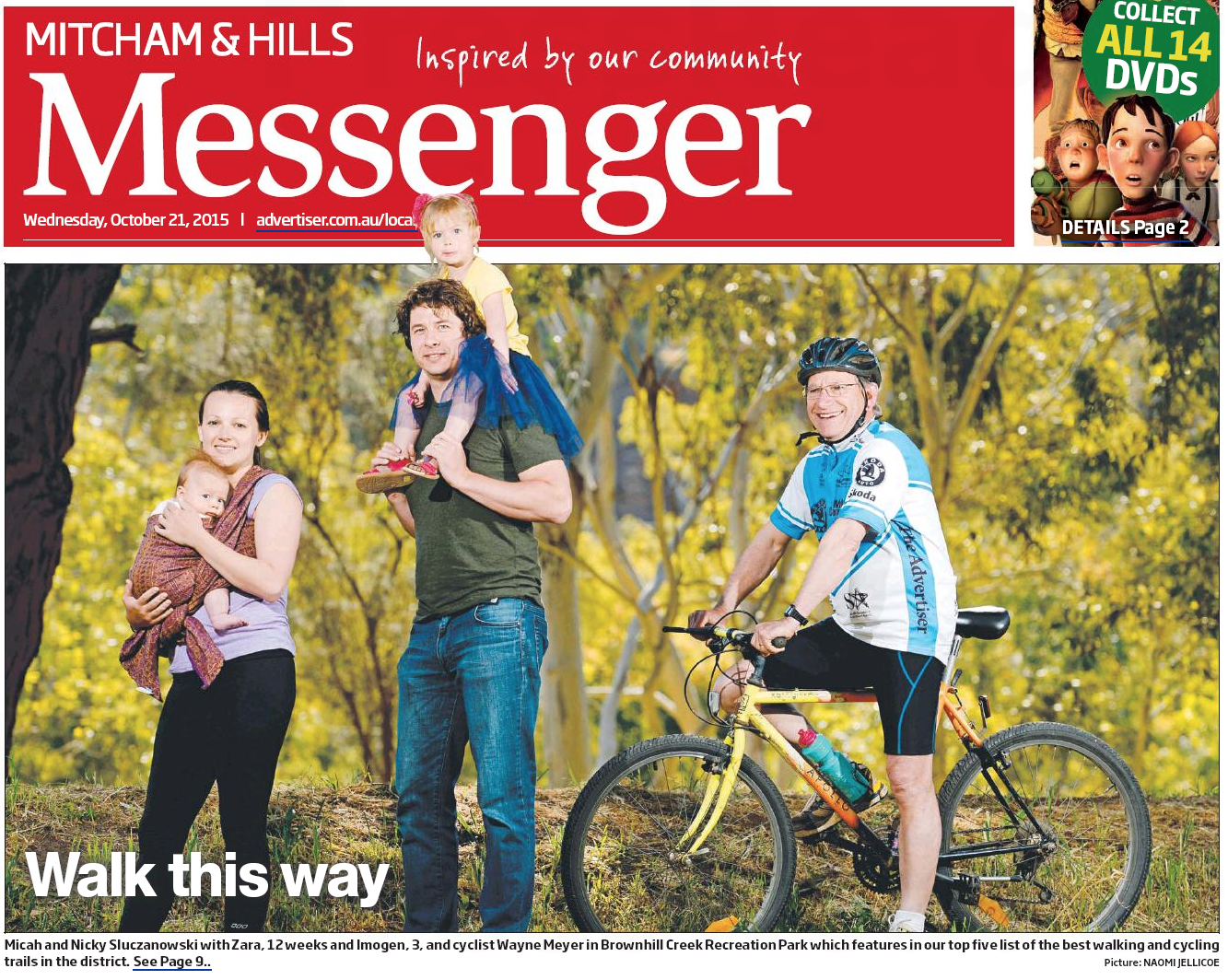 _______________________________________________________________________________
NO DAM OPTION D SUPPORTED BY 85% OF COMMUNITY CONSULTATION RESPONDENTS!
Flood Plan Wins Community Support
Consultation-findings-on-the-Brown-Hill-Keswick-Creek-Stormwater-Project-Part-B-Report-120815
_______________________________________________________________________________
BROWN HILL KESWICK CREEK STORMWATER PROJECT REFUTES MEDIA MISINFORMATION:
BHKC Stormwater Project Website-Latest News
________________________________________________________________________________
PUBLIC CONSULTATION CLOSED: It is likely that a public consultation report will be finalised and presented to Adelaide, Burnside, Mitcham, Unley and West Torrens Councils in August, 2015. A decision on the chosen option for Part B works by councils is expected in September and a recommendation provided to the Stormwater Management Authority, possibly in October, 2015 (according to the Project Director). This may result in a final Brown Hill Keswick Creek Stormwater Management Plan being completed and presented to the Stormwater Management Authority for approval in 2015.
________________________________________________________________________________
MEDIA RELEASE: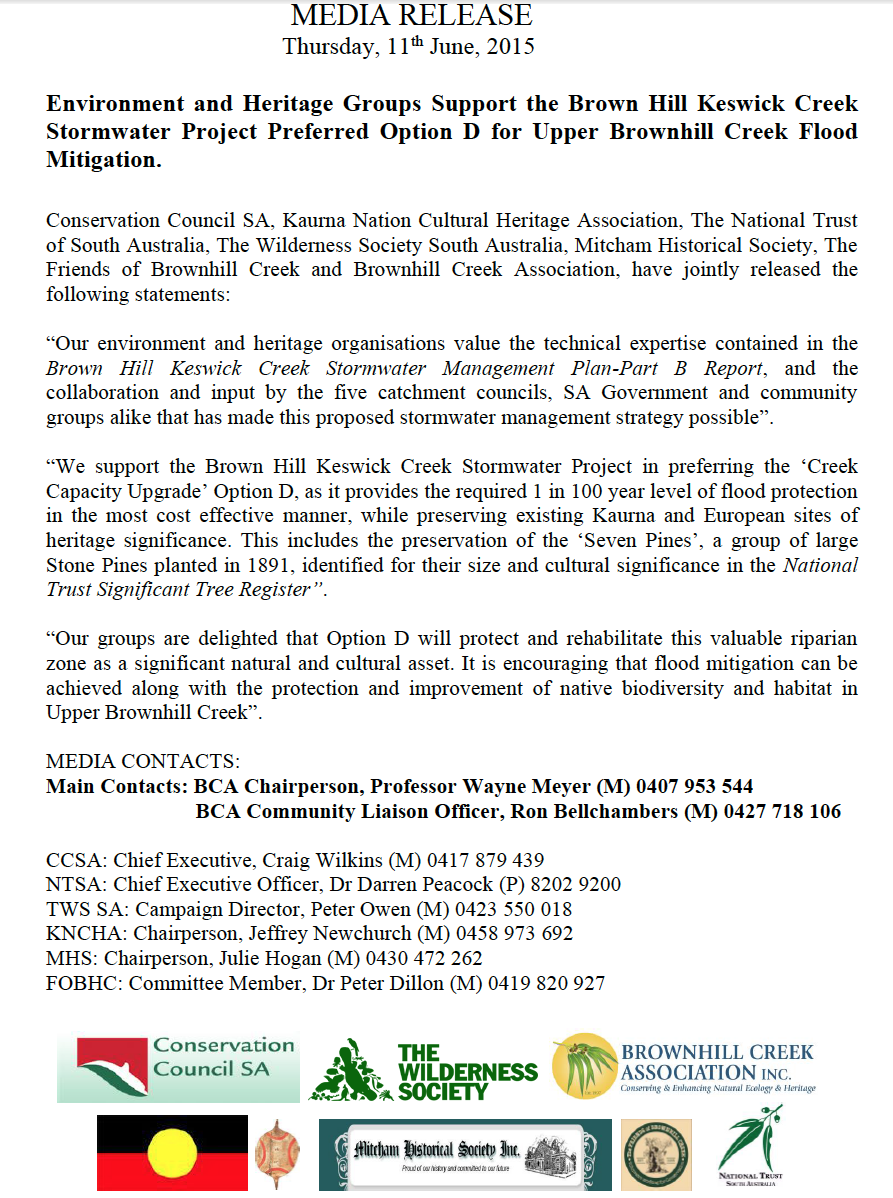 LETTER OF SUPPORT FROM MARTIN HAMILTON-SMITH MP: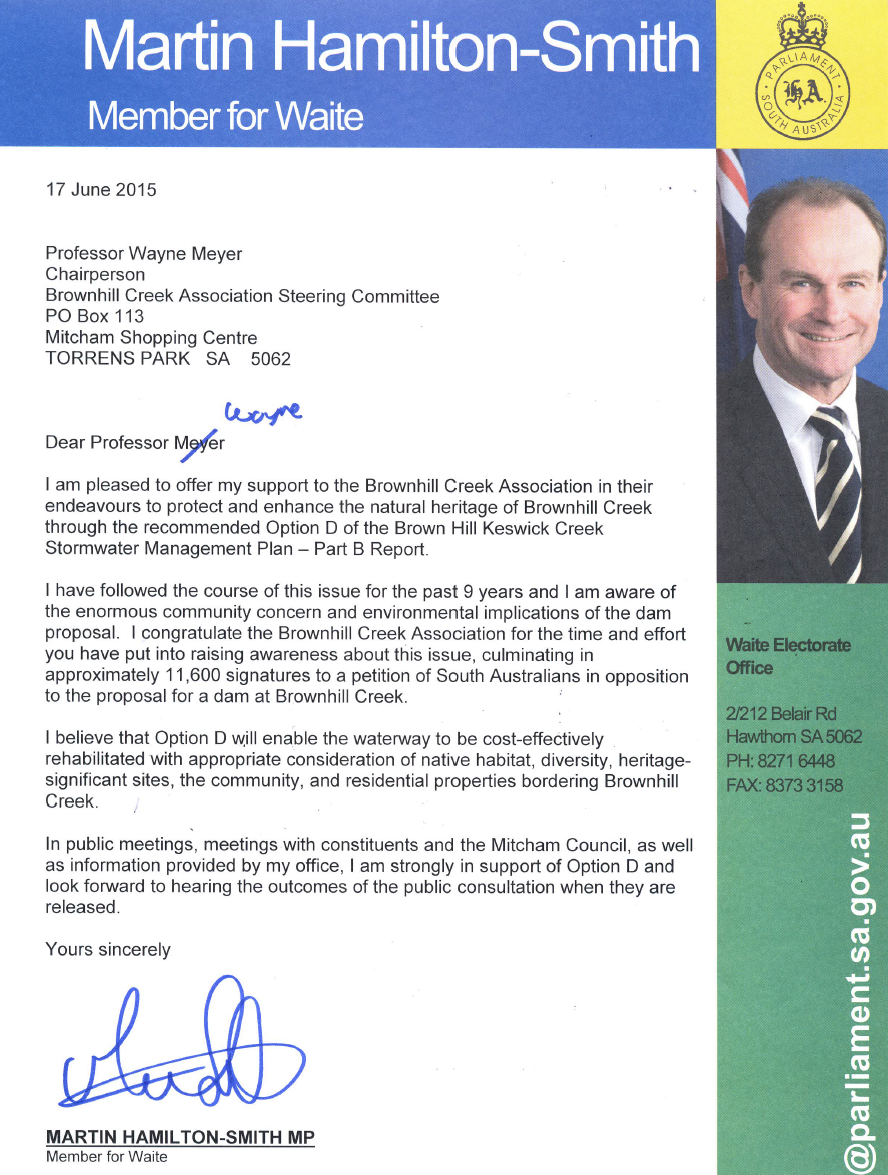 SUBMISSION FROM THE KAURNA NATION CULTURAL HERITAGE ASSOCIATION: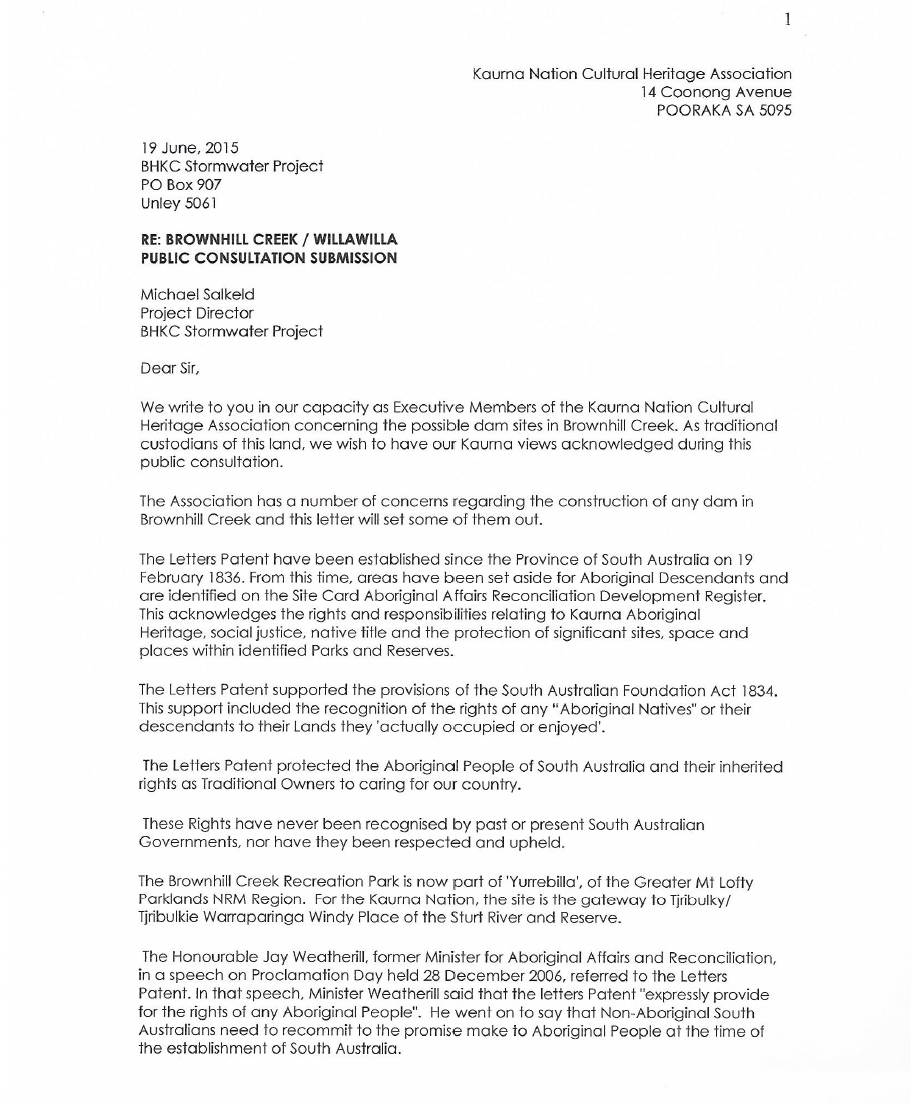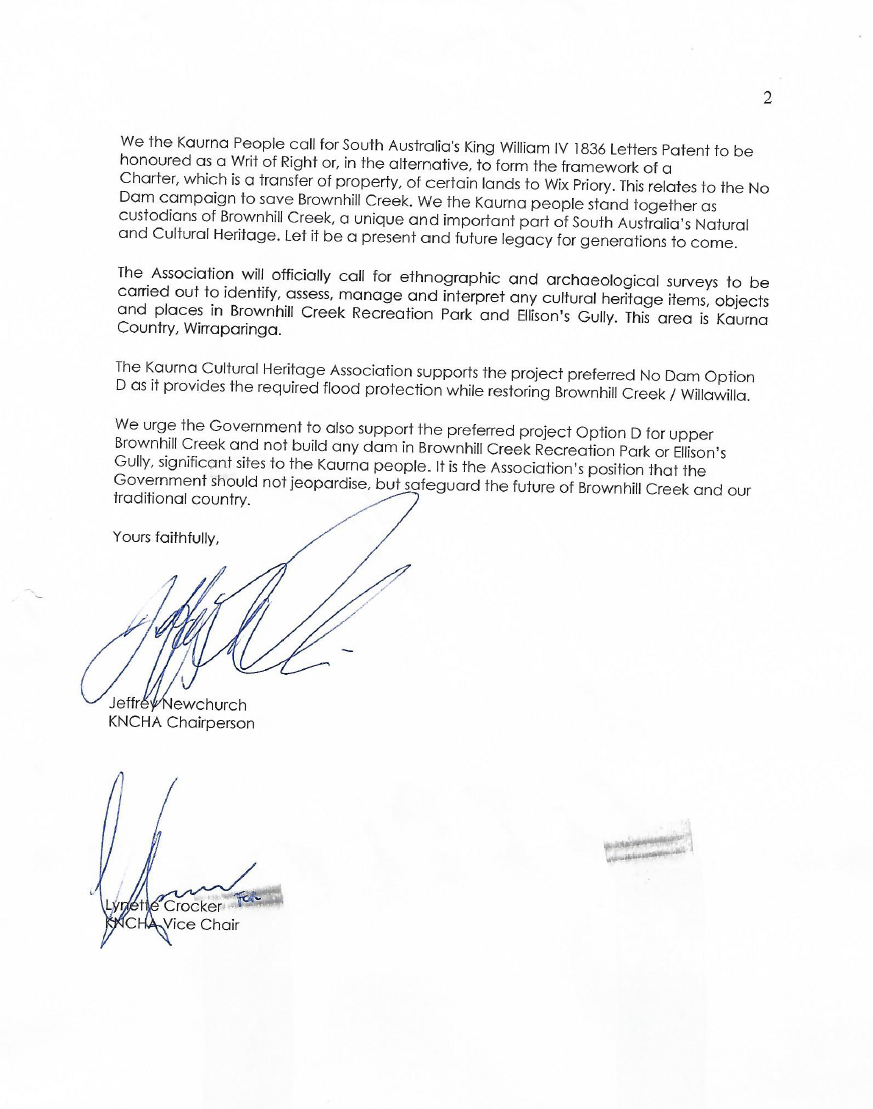 ________________________________________________________________________________
FINAL PUBLIC CONSULTATION.
The final Brown Hill Keswick Creek Stormwater Management Plan: Part B Report has been received by all 5 catchment councils and the report officially states that No Dam Option D is the project preferred option. According to the Brown Hill Keswick Creek Stormwater Management Project, Option D is feasible, more cost effective and benefits the environment. A public consultation is taking place from May 13 to June 23, 2015. Support preferred Option D during the public consultation by filling out an official Feedback Form. How to obtain a feedback form:  http://bhkcstormwater.com.au 
HOW TO HELP NOW:
REQUEST A FEEDBACK FORM FROM THE PROJECT BY CALLING 1800 468 835, online at www.bhkcstormwater.com.au or email bhkcstormwater.com.au (One per household from any council area in Australia, for any owner or occupier. Because it is close to the deadline you will have to collect your form from Unley Civic Centre (Unley Council 181 Unley Road Unley) on Tuesday 23 June, but only after you have registered with the project and been told that it is ready to collect. You can fill the form out there and submit it. The deadline is 5pm on Tuesday 23 June. If you are mailing your form, it will be accepted if it has an Australia Post mark of 23 June.

CHOOSE THE PROJECT PREFERRED OPTION D ON THE FEEDBACK FORM.

 EMAIL OR WRITE A PAPER SUBMISSION THAT PROVIDES A DETAILED RESPONSE WITH YOUR NAME AND RESIDENTIAL ADDRESS

. Clearly explain your interest in the project, why you support Option D and include supporting information if you wish. Your email must be submitted by 5pm. Email: info@bhkcstormwater.com.au                         Postal Address: BHKC Stormwater Project, PO Box 907, Unley 5061
BHKC Summary Brochure May 2015
Letter From The Hon. Ian Hunter MLC To State Member For Waite Martin Hamilton-Smith MP
News Page-No Dam Option D is the Preferred Solution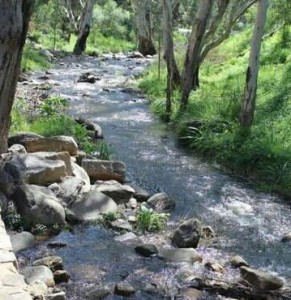 ________________________________________________________________________________
 MITCHAM COUNCIL ELECTION: 
Mitcham Council Election Results
ELECTED MEMBER RESPONSES : OVERWHELMINGLY IN SUPPORT OF NO DAM OPTION D.
Question: "Do you support the No Dam solution for Brownhill Creek (Option D)?"
Mayor Glenn Spear:
"As a mayoral candidate I support the Brownhill Creek option D (no dam) proposal. This has consistently been my view after having been informed of the various options."
Cr. David Munro:
 "I do not support a Dam for Mitcham, however I still believe that there is more to be heard on this issue. I think that there is a need for some sort of mediation to occur so that parties can bring their issues to one forum where we can seek independent professional and unbiased advice and clarification.If re elected I will be pursuing for such a meeting to occur and allowing an opportunity for councillors, residents and members of groups to have their say, ask questions."
 "If I am elected I believe that I must honour the extensive work and decisions that have been made by many people so far to resolve the storm water issue, and I would follow through with the current councils preferred option of a No Dam Solution."
Cr. Adriana Christopoulos: 
 "When it comes to rate payers dollars,  Council must look for the most cost effective measure with the lowest capital cost and lowest annual maintenance cost. I strongly support Option D, I believe this to be the preferred option to mitigate the risk and reduce the impact of major flooding on properties in the Brown Hill Keswick Creek catchment and this will be my position if I am elected to represent the Boorman Ward."
Cr. Andrew Playford Tilley: 
"I totally support the preferred no dam and creek upgrade option D as outlined in the project report. It is the most sensible option that both preserves the unique environs of Brownhill Creek, mitigates

against the risk of downstream flooding and minimises the burden upon ratepayers funds."
Craigburn Ward Candidates
Cr. Karen Hockley:
 "I am keen to enable and promote the protection and enhancement of our environment and heritage assets.  Brownhill Creek, including Ellison's Gully, is an area of natural beauty and a place rich with colonial and indigenous heritage.  As such it should be protected, enhanced and preserved for the community now and into the future.  I have made the effort to attend and listen to many deputations made to Mitcham, Unley and Adelaide Councils and I have not yet heard any convincing arguments in favour of putting a dam on this important site.  Based on my understanding of the technical information and community sentiment, I support option D, the no dam solution for Brownhill Creek."
Cr. Nick Greer: No written response. Cr. Greer did verbally state at the BBDCA "Meet the Candidates" evening that he had no personal preference for 'Option A,B,C, or D', but would be guided by the recommendation of the experts. Cr. Greer then acknowledged that the current report did favour Option D. We do not wish to imply that Cr. Greer is locked into any position on options for Part B Works.
Cr. Lindy Taeuber:
 "Yes"
Gault Ward Candidates 
Cr. Adrian Rosevear:
 "I do not support damning Brownhill Creek. If elected I will work with the various interests to ensure their concerns are considered by council. The outcome and final solution will likely not make everyone happy, however, the importance of getting this right, effective flood mitigation and conserving our environment and heritage, requires that we do get this right."
Cr. Stephen Fisher:
 Stephen has been away overseas. Stephen confirmed his support for No Dam Option D over the phone.
Overton Ward Candidates
Cr. John Sanderson:
 "Yes I do support the No Dam solution for Brownhill Creek (Option D)."
Cr. Nicholas Economos:
 "I support option D. It is both an environmentally friendly option and is cost effective."
The Park Ward Candidates
Cr. Mark Ward:
 "I absolutely support option D. It was former Cr Grant Hudson and I who originally moved the motion back in 2006 or 2007  to stop 2 huge concrete dams being built based on outdated data and a lack of information. Option D is a very pleasing outcome to an emotional and ill informed debate."
Cr. Tim Hein:
 "Consistent with all my comments and voting on Council, I do not support a dam at Brownhill Creek."
_______________________________________________________________________________
SEPTEMBER
BROWN HILL KESWICK CREEK STORMWATER MANAGEMENT PLAN: PART B REPORT – SEPTEMBER 2014, HAS BEEN RELEASED (9 SEPTEMBER, 2014).
The expert report and all 5 council CEO's back the feasible and cheaper Creek Capacity Upgrade solution. It is clearly favoured to replace a proposed dam and provide the best means of finally completing the Brown Hill Keswick Stormwater Management Plan. A final public consultation will be undertaken in March/April 2015. A final decision by the five councils is expected to follow in May 2015.
_______________________________________________________________________________
NEWS ALERT: MAY 2014
MARTIN HAMILTON-SMITH MP, STATE MEMBER FOR WAITE, FORMALLY OPPOSES THE PROPOSED DAM AND SUPPORTS BETTER, MORE APPROPRIATE FLOOD MITIGATION OPTIONS: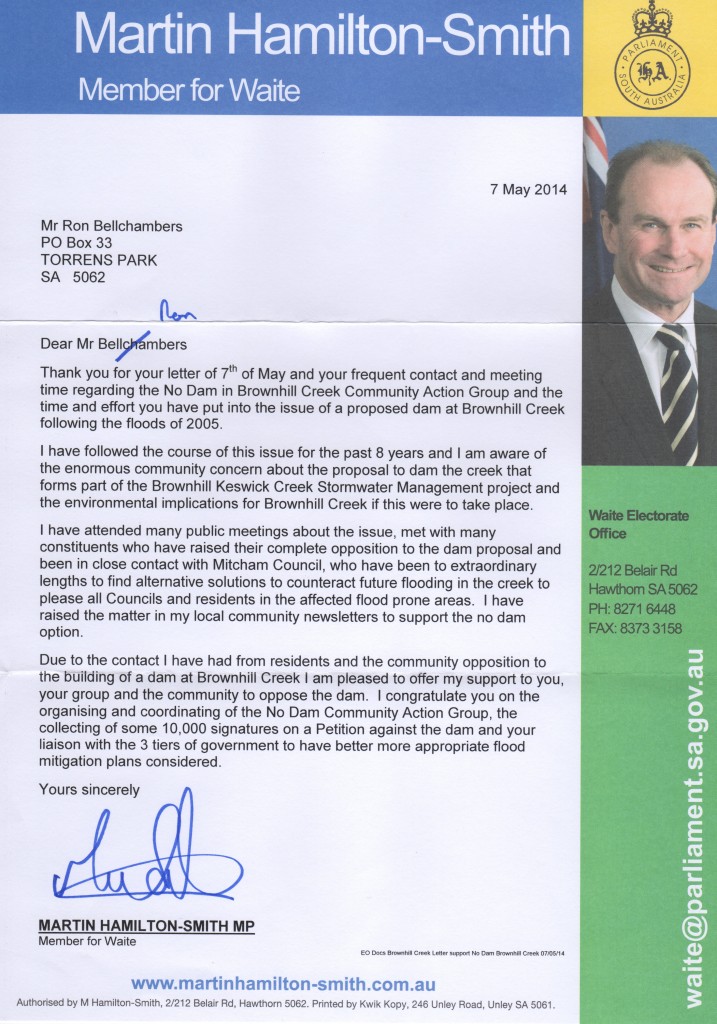 —————————————————————————————-
Breaking News: 14th February 2014
A No Dam / No Large Culverts Option for the upper reaches of Brownhill Creek, incorporating an improved creek environment, looks set to provide the breakthrough needed to finally complete the Brown Hill Keswick Creek Stormwater Management Plan. Not only will this option provide the necessary flood mitigation, but it will also protect well documented environment and heritage assets, address (majority) community concerns and according to current estimates, is cheaper! Revised Bureau of Meteorology rainfall figures, updated hydrology and more accurate modelling have made this new option possible.
 ————————————————————————————————————————————- 
NEWS ALERT: 13/02/2014
ADELAIDE'S URBAN SUBURBS SUFFER FLASH FLOODING, BUT BROWNHILL CREEK DRY AT PROPOSED DAM SITE!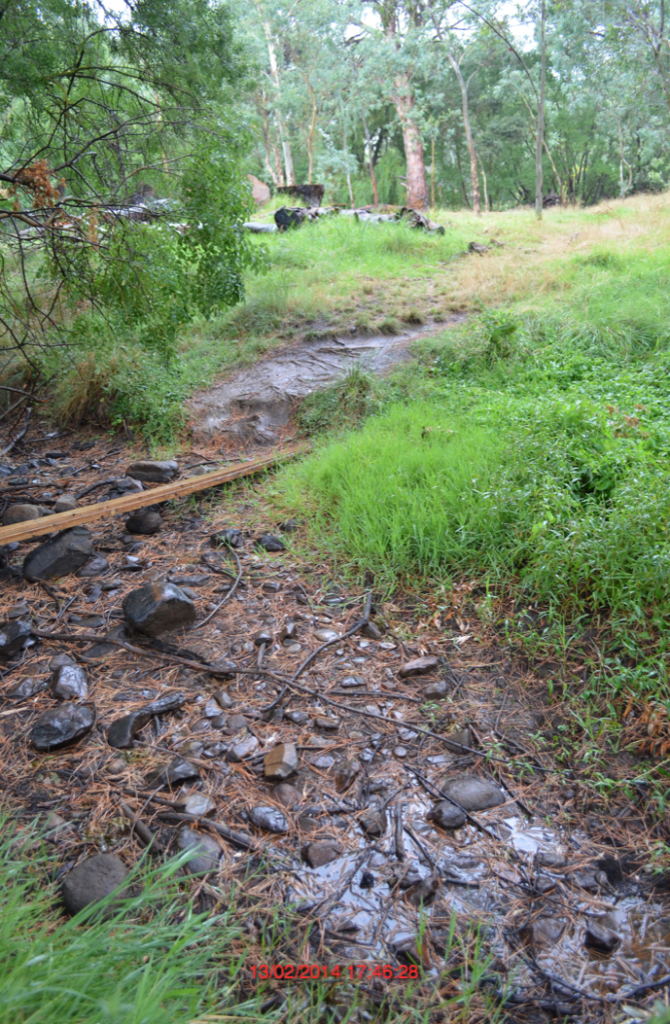 This officially verified photograph (local government representative present) was taken at the proposed dam site on 13/02/2014 at 5.46pm, proving that a dam in the rural Brownhill Creek catchment cannot protect urban Adelaide from flash flooding. Urban flood mitigation works are essential. Even at 1.30pm on Friday 14th February, after record overnight rainfall, Brownhill Creek was still not flowing at the proposed dam site!
————————————————————————————————————————————–

Brownhill Creek Recreation Park is classified by the IUCN as a 'Natural Monument' (IUCN Category III): See details on page 6 of the Brownhill Creek Recreation Park Management Plan (Department of Environment, Water and Natural Resources-DEWNR).
________________________________________________________________________________
REVITALISING BROWNHILL CREEK, SOLDIERS MEMORIAL GARDEN, JWS MORRIS PARK AND DELWOOD RESERVE IN HAWTHORN.
You are invited to comment on the Draft Brown Hill Creek (Hawthorn Reserves) Reconstruction Master Plan.
Click on link below and respond by 5pm on Wednesday 25th September 2013.
SEPTEMBER 2013: ELECTION SPECIAL UPDATE AND THE DEATH OF PETER COLLINS  
Andrew Southcott-No Dam Letter
Hi Everyone,
 The two reports that we have been waiting for have still not been released to the public. They are the Snowy Mountains Engineering Corporation (SMEC) report into the proposed dam at Site 1 (Seven Pines) and the AWE report into the channel capacity issues for the Brownhill Creek channel between the Glenelg Tramway and Scotch College.
 What I can tell you is that the SMEC report has confirmed that the dam would be an extreme hazard concrete dam, with a 12metre spillway, but an overall height of at least 15metres or 5 storeys. The dam would stretch 120metres across the valley with very similar dimensions to placing South Australia's Parliament House across the centre of Brownhill Creek Recreation Park. The concreting of the valley 30metres downstream from the dam would occur. The cost of the dam will double from original estimates.
 Despite the five catchment councils agreeing to proceed with 80% of the plan and to 'pursue a feasible no dam option',and the fact that there is a safe no dam option (3A), there is a renewed push from the same people to make sure that a dam is built. 
 A stormwater project will not occur without federal funding and there is now a push to secure a 30% federal contribution. I have attached a letter that I wrote to the sitting Federal Member for Boothby, Andrew Southcott and he took the time to meet with me. I am pleased to announce that Andrew Southcott has taken a strong, formal position against the dam and I have attached his letter of response. 
 I also wrote to the Labor candidate for Boothby, Annabel Digance and Annabel sent an email to me stating that she personally opposed the dam and spoke to me over the phone. Annabel was unable to provide a formal letter opposing the dam.
 Peter Collins died on Saturday 31st of August after a long battle with cancer. Peter Collins and John Wilson were the joint recipients of the Citizens of the Year Award (26th January, 2013) and Peter will be remembered for his enormous efforts to help his community and his contribution to environmental causes in South Australia. In fact he helped many countries around the world, during his long career as a skilled civil engineer, and was blessed with a fine mind, kind heart and absolute integrity.  There will be a celebration of The Life of Peter Collins on Friday, the 6th of September 2013, at 3pm at the Blackwood Uniting Church and Peter's wife Karen said that all are welcome. 
Ron Bellchambers    0427718106
The Stormwater Management Authority voted in favour of the 5 Catchment Council's 2012 Stormwater Management Plan at their meeting on Tuesday 26th February, 2013. We support the plan and welcome their decision.This allows 12 months to assess the Upper Brownhill Creek catchment (part B of the plan), including the No Dam option. Part A works (80%/$120m) in the Keswick Creek catchment and Lower Brownhill Creek catchment can proceed:
SMA NEWS RELEASE: SMA Brown Hill Keswick Creeks MR
NO DAM IN BROWNHILL CREEK COMMUNITY ACTION GROUP NEWS RELEASE:
A major article about the iconic Stone Pines at "Seven Pines", the proposed dam site, has appeared in the Trust News Australia: Volume 6 No 1 February 2013. The National Trust magazine has a large circulation Australia wide and strong support to protect this heritage site is developing.
2013 Trust News Feb issue Charles Buttigieg & SA historic trees
Final Report on The Seven Pines at Brown Hill Creek Recreation Park
Mitcham's "Australia Day Citizen of the Year was presented jointly to Mr Peter Collins and Mr John Wilson for their contribution to the Brownhill and Keswick Creek Stormwater Management Project. They have used their engineering experience and expertise to provide information which has assisted the project to develop more accurate and detailed reports". Their valuable and extensive voluntary work makes them worthy recipients. See the February edition of MCN (Mitcham Community News) for full details and photos. Available online, at the Mitcham Council website: 

 

www.mitchamcouncil.sa.gov.au
 Mitcham Council and The National Trust have launched the Stone Pines Report at "Seven Pines", the proposed dam site. Stone Pines placed on the State Register of Significant Trees:
http://www.mitchamcouncil.sa.gov.au/page.aspx?u=1595&c=15252
http://www.news.com.au/national/towering-brown-hill-creek-pines-addedd-to-sas-register-of-significant-trees/story-fndo4dzn-1226491970150
http://digitaledition.hvmessenger.com.au/?iid=69133&startpage=page0000010#folio=1
A preliminary design/cost study on the natural channel in the Upper Brownhill Creek Catchment, above the Glenelg Tramway, is being carried out by AWE. The results of this study should be released by February/March 2013. The results will be crucial for the final design of Part B flood mitigation works, which rely on the restoration of natural channel capacity.
A preliminary design/cost study on the proposed dam is being carried out by SMEC. The results of this study are also expected in February/March 2013. We believe that the true cost of the dam will be significantly higher, making our No Dam Option 3A cost comparable.
Our group's campaign has been recognized at the 2012 Conservation Council SA, Environmental Awards. Our spokesperson, Ron Bellchambers, was a finalist for The Jill Hudson Award for Environmental Protection

.

 

Read Award PDF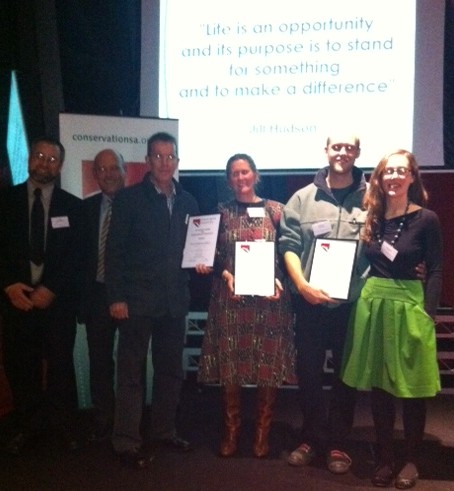 From left: CCSA CEO Tim Kelly; Hon. Paul Caica MP; Finalists: Ron Bellchambers; Phillipa Rowland; Dan Monceaux and Emma Stirling.
We are very pleased to announce the birth of Imogen

. Nicky and Micah Sluczanowski are the proud parents and we wish them all the best for their future together. Nicky worked hard to get our campaign going and we thank her for her efforts.